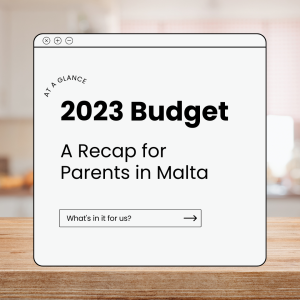 Since most of us did not have the time to sit through the entire speech about the 2023 Budget for Malta, we thought we'd work on a quick recap of all the parenting related measures. The main focus of this year's budget was (as expected) rising food and energy prices and ways to mitigate the effect on our cost of living.
These are the measures worth knowing about:
Cost of Living Adjustment
This year's COLA is an unprecedented €9.90 per week which translates to €514.80 annually.
Cheques for low-income households
80,000 low income earners will receive cheques (at an average of €300) to compensate for rising prices. These cheques will be sent ahead of the holiday season.
Children's allowance will be increased by €90 per child
Instead of lower taxes, we'll be getting a tax refund ranging from €60 to €140, depending on income.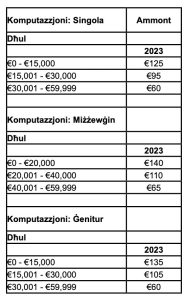 Parents can get a tax rebate for sports, arts and cultural activities their kids are enrolled in. This rebate increased from €100 to €300.
If you're buying your first home, you can benefit from a €10,000 grant paid over 10 years.
The cost of living adjustment will also lead to an increase in stipends.
Works to be completed on a number of schools (Hal Ghaxaq, Msida, Rabat) and the new sports complex for the Santa Lucija school.
Free fruit and vegetables
Students in primary schools will once again receive free fruit and vegetables.
Starting from the next scholastic year, Year 7 students will receive a free laptop. 
€700 million will be spent over seven years to implement the government's greening projects.
Boys born after the year 2000 can receive the HPV vaccine for free. Multiple sclerosis medication to be given for free. A €20 increase for those with coeliac disease. Mothers and fathers who do not work and take care of a disabled child will receive a grant of €4,500 yearly. Parents of disabled children will receive a €200 tax credit.
Parents who adopt a child they've been fostering will continue to receive a percentage of the fostering allowance for a number of years
And the most important one:
A €608 million subsidy to keep energy and grain prices stable – we're already spending way too much at the supermarket!
Want the full details? You can read the entire budget speech here.  
---
Curious about how this compares to last year's budget breakdown? Check it out here.