Preparing healthy meals that the entire family enjoys can be challenging. Add work, school, extracurriculars (and a dose of traffic) and this becomes even more of a headache. In a Pinterest-inspired world, all food prep is done on Sunday, chopped up produce is stored into beautiful glass jars with bamboo lids, and immaculately organised into a well-stocked vitamin-packed fridge. But, for those of us who are not too eager to dedicate Sundays to the kitchen, these 5 quick and easy dinners are perfect for busy weekdays when time and energy are lacking.
Check them out below!
Parmesan Bow Tie Pasta with Chicken by tasteofhome.com
This pasta recipe is divine – it's a crowd pleaser (kid-approved) and hides some veggies really well.
It takes around 30 minutes to make, but you can have this ready in even less time if you stock up on frozen squash and already-cubed chicken breast.
We know these two options aren't always the best, but we're also realistic about what can be achieved after a long, tiring day. 
One-pot Teriyaki Chicken Wings with Rice by myfoodbook.com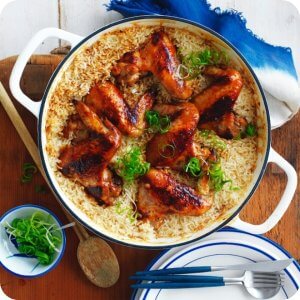 This chicken wings recipe is delicious and easy to make. It looks fancy, but we promise you won't end up with a kitchen sink full of dirty pots and pans. All you need is one pan, some basic pantry ingredients and you're good to go!
To save even more time, you can opt for store bought teriyaki although nothing really beats the taste of a freshly made sauce. For added flavour, marinate the chicken thighs in advance and pop into the fridge for a couple of hours.
Tuscan Ravioli Soup by Let's Dish
This ravioli soup looks and tastes amazing and is really easy to make. It's warm and filling, perfect for cold winter evenings.
You can easily swap the ravioli for tortellini and if you think the kids won't appreciate the spinach, either skip it or shred it thinly.
Be careful not to overcook the ravioli, especially if you'd love some leftovers for lunch the next day.
Quick Glazed Salmon by Kidspot.com.au
An amazing and super healthy dish that can be whipped up in no time, this baked salmon goes wonderfully well with basmati rice and even couscous, if you're short on time. In case of allergies in the family, it's good to know that this recipe is dairy and egg free.
Salmon is a good source of healthy omega-3 fatty acids which aid in the development of a child's brain and nervous system. It's mild taste makes it ideal even for picky eaters. Skip the coriander leaves if your kids (like ours) have a distaste for anything green on a plate.
Weekday Frittata by loveandlemons.com
How about a Frittata Friday? You can whip up a quick, delicious meal in minutes, using random vegetables you have sitting in the fridge – even sad-looking ones will do. Insider tip for fussy eaters – chop up any vegetables your kids don't like in a food processor.
This way they'll be tiny enough for them to (hopefully) not spot. This recipe is so versatile and you'll also be reducing food waste. Serve with bread, fries or a salad for a healthier option.
---

Having to think about healthy meals everyday can feel overwhelming, but it really doesn't take much time or effort to prepare hearty homemade meals. It helps to shop for your ingredients in advance and to have everything at hand when needed. Supermarket trips during rush hour while hungry are the worst, so we made sure to only list recipes you can shop for in advance and using ingredients readily available at home. 
We hope your family loves these quick weekday recipes as much as ours do! Get more inspiration in our Island Foodie section.