Welcome to a series of articles dedicated to cultural activities in some of our beautiful towns and cities around Malta.
We're giving you the best ideas for some cultural inspiration for those young minds- let them learn about Malta whilst they still have lots of fun.
Valletta is a magical city where history meets adventure. It's perfect for families with kids. In this article you'll find the top 6 Cultural Activities in Valletta with kids. fun-filled activities which will make your visit worthwhile.
     1.John's Co-Cathedral
St. John's Co-Cathedral in Valletta is a breathtakingly beautiful church adorned with stunning architecture and an interior filled with artwork and marble sculptures. It's a must-visit place for families with kids, as the cathedral's rich history and captivating design provide a fantastic opportunity for children to immerse themselves in Malta's cultural heritage.
     2. Upper/ Lower Barrakka Gardens
The Upper Barrakka and Lower Barrakka Gardens in Valletta are two charming green gardens that offer stunning panoramic views of the Grand Harbour and the Three Cities. These gardens are a fantastic place to visit with kids, providing a peaceful place in the heart of the city where families can enjoy a leisurely stroll and take in the breathtaking sights of historic Valletta. Children will love running through the pathways, discovering the beautiful statues and fountains, and it's also a great place to watch the saluting battery ceremony at noon.
     3.  Cafe Cordina
Make sure to take a pit stop at Cafe Cordina. This iconic landmark is a must-visit, not only for its rich history and delicious treats but also for its incredible atmosphere, making it an ideal spot to rest those little legs, especially during a long day of exploring.
    4. Saluting Battery
The Saluting Battery is a fascinating historic site that fires a dramatic cannon salute every day at noon. Visiting with kids can be an exciting educational experience, as they can witness the thrilling cannon blast while learning about Malta's military heritage in a fun way. It's a unique and family-friendly attraction that combines history and entertainment for a memorable visit in Valletta.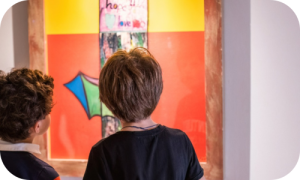 Spazju Kreattiv in Valletta is a vibrant cultural hub that hosts a variety of artistic and creative events for all ages. It's a fantastic place to visit with kids because they can immerse themselves in the world of arts, attend workshops, and enjoy family-friendly performances, fostering their creativity and appreciation for culture.
   6. The Valletta Waterfront
The Valletta Waterfront is a great place to take a walk with your kids. There are plenty of restaurants to grab a bite to eat, and the views of the Grand Harbour are amazing. The kids will love it as there's always something going on.
There you have it! These are just a few of the many great places to visit in Valletta with kids. With so much to see and do, you're sure to have a fun-filled and memorable trip.
If you're looking for more ideas of what to do in Valletta with kids, we've got you covered.