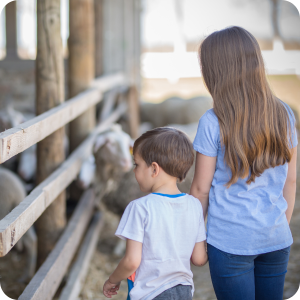 Are you planning a family trip to Malta or Gozo and wondering where to take your animal-loving kids? Well, you'll be pleased to know that Malta and Gozo have a variety of places where you can see a range of fascinating animals up close. From exotic birds and land animals, there's something for everyone. Your kids can have an educational and enjoyable experience, while learning about different species . they'll be Definitely in for an adventure that will create lasting memories. Check out some of the most exciting places to see animals in Malta & Gozo!
If you're looking for a fun and educational experience for your kids, then a visit to Girgenti farm could be just the outing. Girgenti farm offers a unique and interactive experience feeding the animals. With a variety of animals to see, your little ones are sure to have a blast. The farm provides animal feed and encourages kids to hand-feed the animals, providing a hands-on learning experience that is both fun and educational. And, with knowledgeable and friendly staff, your kids will leave with a greater appreciation and understanding of these wonderful creatures.
Vincent's Eco Estate farm offers a variety of activities that allow children to interact with and learn about different animals in a safe and supervised environment. From feeding and petting the farm animals to pony rides, knowledgeable staff are on hand to answer any questions and share interesting facts about the animals, making it a great opportunity for children to learn and explore the natural world around them..
There is a charming little petting farm in Qormi that offers kids the chance to get up close and personal with some adorable animals. In addition to petting and feeding the animals, the farm also has a play dough table where kids can get messy and make all kinds of fun creations. And for those who want a little more adventure, pony riding is also available! The farm is a wonderful place for kids to learn about animals, play and explore, and make some unforgettable memories.
Sunflower Pony Club for kids is an excellent place for children who love animals and the outdoors. In addition to horseback riding lessons, the club also offers various farm-related activities for children, such as feeding the animals, and learning about farm life. This provides an opportunity for kids to develop their understanding of animal care and agriculture while having fun. The experienced and knowledgeable staff members ensure that children receive a safe and enjoyable experience while learning new skills and making new friends. The Sunflower Pony Club is a fantastic way for children to connect with nature and learn about responsible animal care.
The Dream of Horses Farm is located in Gozo. The farm offers a unique and rewarding experience for children of all ages.Kids get to see various animals including horses, stallions, pigs, sheep and geese amongst others. The club also offers people therapy sessions with the ponies. These sessions provide children with the opportunity to connect with the ponies in a therapeutic setting, which can have a positive impact on their mental and emotional well-being. The experienced and caring staff members ensure that every child feels safe and comfortable during their time at the club. At the Dreams of Horses Farm, children will develop a love for animals and nature, while also gain valuable life skills such as responsibility and compassion.
One of the best places for kids to have a fun-filled and educational experience with animals in Malta is the Ta' Qali Petting Farm. This well-known farm is a favorite among families and features a variety of animals. Visitors can interact with the animals and also feed them. In addition to the petting area, the farm also has a great recreational area for all the family. It's an excellent place to spend a day outdoors, interacting with animals, and creating cherished memories with loved ones. There are also some sheds to stop for a quick snack.
If you're looking for a place that offers both an enjoyable animal experience and excellent dining options, Ta' Gingel Farm is place for you. This farm is a popular destination for families. At Ta' Gingel Farm, you will find a variety of friendly animals that kids can pet and feed. Yet, what sets this farm apart is its fantastic restaurant that serves delicious food made from fresh, local ingredients. The restaurant overlooks the farm and provides a beautiful view while you dine. Children can enjoy the petting area while parents relax and enjoy a tasty meal. It's a great place for a day out with the family, offering both fun and relaxation for all.
All these locations are guaranteed to provide hours of entertainment and education. So pack your camera, grab some snacks, and get ready to make amazing memories through some of Malta and Gozo's most exciting animal attractions!
Looking for more activities for the kids? Check out the do list.