Welcome to our first Bébé's Day Out!
If you're anything like us, you've probably found yourselves heading to the same coffee shop down the road, and the same swings set in the area, ever since your little one was born.
You crave a bit of change in your routine (nothing too crazy, but a change of scenery would be nice!) but you have no idea where to go. Does that sound familiar?
In this series, we hope to inspire parents on the islands to explore different villages and regions with their kids. We've done all the research for you – from the best stops for coffee and a snack to the most recommended route for an afternoon stroll.
A full day's itinerary – all you have to do is drive there!
---
Ħaż-Żebbuġ
We're kicking things off in the cute, central village of Ħaż-Żebbuġ in Malta (not to be confused with Żebbuġ in Gozo!)
Getting there
With the Central Link project currently underway, you'd want to check your route before you get there as driving there through Attard has become a little tricky now. It might be easier to head there from Qormi, taking Mdina Road, or if you're coming down from the north, enjoy the picturesque drive from the Mosta area, taking you through Triq ta' Buqana.
Parking
Not a problem here! If you're starting with breakfast, head to the centre and you shouldn't have too much trouble finding street parking. Things might get busier on Thursdays because of the Monti (market) which sets up under the lush trees of Triq Sciortino, but buying some fresh fruit and veggies could be an attraction in itself, so don't let this deter you!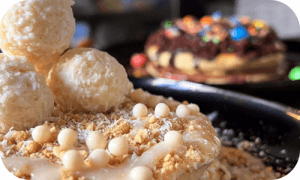 Breakfast
Head to The Pancake Parlour. Just a few steps away from the church pjazza (map pin here), you'll first spot the beautiful, original sign "Coronation Bar". This spot turns into a warm wine bar in the evenings, but serves up delicious coffee (and babycinos!) in the mornings, as well as the most indulgent pancakes for miles.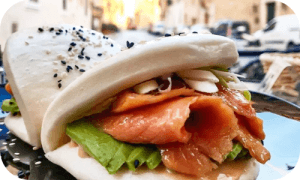 Healthy options are also on the extensive menu. We tried the Breakfast option: mini pancakes, mini bufala balls, a bagel with cream cheese, parma ham, cherry tomatoes and blueberries. It was perfect for sharing with the toddlers!
They've got seating inside and outside, so you can enjoy it whatever the weather – although booking ahead is recommended!
Best Playground
While the closest play area to the church is just up the road (map pin here) this is quite small. We would really recommend heading to Tal-Grazzja Playground (map pin here).
It's super spacious, surrounded by trees and even has some beautiful wall art, making it a lovely space to sit back on the bench and soak in the sun while the kids have a good runaround.
Lunch pitstop
If you're getting peckish and need a bite, Lungo Cafe is right next to the church. We can recommend their yummy pasta dishes, and they also have quick wraps and burgers if you're looking for something lighter.
Valley Walk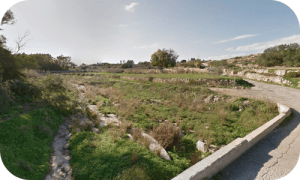 Whether it's time for the younger ones to nap, or the older ones to run around, why not head to the beautiful valley for some quality time in nature?
Wied il-Ħesri is easily accessible by car (drive to this spot and park). If the kids are on bikes or scooters, or you're pushing a pram, you can enjoy the walk along the many concrete paths. If you're on foot, we recommend heading in this direction as it's completely car-free, wild and beautiful.
Indoor activities
If it's raining, or you want to get out of the hot sun, there are quite a few surprising options to add an element of fun to your day:
Date night
If you're vibing with the place, why not drop the kids off to bed and head back here for a cheeky date night? You might be surprised to know that Żebbuġ has not one, but two well-reviewed restaurants right in the church pjazza:
---
And there you have it! A fun-filled day in a village you might not have even considered in the past.
Keep your eyes on our Activities section for our next Bébé's Day Out review!