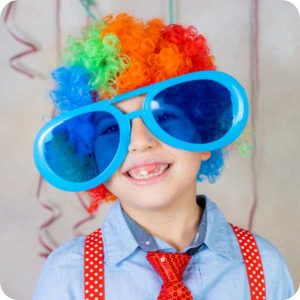 After a very wet and stormy weekend, mid-term holidays could not be arriving at a better time! There's so much build-up to the Carnival holidays for young kids in Malta, and this annual break is an opportunity to create fun memories and spend quality time with the family. But we all know that the large crowds and loud music aren't for everyone… especially if you have young kids! If you want to steer clear of the busy Valletta Carnival, without missing out on the fun – here are a few Carnival activities to inspire creativity over the holidays, both for kids and adults.
Make Paper Plate Carnival Masks
Carnival wouldn't be the same without the costumes, so get creative by designing your own carnival masks for all the family. All you'll need is a few paper plates (the thicker ones will be more stable), a small elastic band, scissors and glue to build the masks. Then, you'll need materials to decorate. Think feathers, sequins, glitter, beads, ribbons and paint – the more colourful, the better!
How to:
Cut the paper plates into the shape you want, leaving holes for the eyes.
Pierce a hole in the sides of the plate and pass the string through it, to tie the mask around the head.
Use your paintbrushes to colour the mask and let it dry.
Add decorations of your choice to create unique masks, ready for Carnival!
Throw a Carnival Picnic
Whether you're heading outdoors or enjoying the fresh air from your roof or garden, organising a picnic is a fun way to get creative over the mid-term holidays. Prepare a selection of colourful snacks (a great excuse to add in a variety of fruits and veggies) and sweet treats. Don't forget to dress up for the occasion with your favourite costumes and party hats!
Make a Traditional Prinjolata
If there was ever a time to indulge in sweets, then this is it! Get creative in the kitchen and make a traditional Maltese prinjolata while teaching kids different cooking skills. You may want to do the baking yourself, but young children will love helping out with the decorating!
Fly a Kite
If the sun is shining, why not make the most of the weather by heading outside? You could even take this opportunity to teach your kids how to fly a kite at one of Malta's beaches or parks. Pick up a colourful kite from your favourite toy store. Or, if you're feeling really creative, you could make your own!
Head to a Carnival Event
Throughout the mid-term holidays, there will be a handful of fun-packed events taking place across Malta. From sciencetastic fun at Esplora, to a deep dive into the National Aquarium, check out these top carnival events taking place in Malta this weekend!
Follow our Facebook Page and Instagram Profile for more ideas of fun activities for kids!