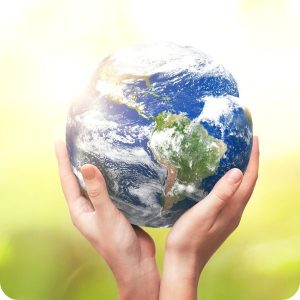 Earth Day is here and what better way to celebrate it than a Free Earth Day scavenger hunt. Have your kids learn more about the environment as they enjoy these fun scavenger hunts.  We've prepared two different printables, one for the little ones and one for older children.
Earth Day
Earth Day is celebrated on the 22nd of April, and it is here to remind us that earth needs help to thrive, so let's all do our best to protect it.
Teaching your children about going green is a good idea to take up this April. Your kids can learn more about being eco-friendly. You can read to them books or introduce them to books that hold this idea and other environmental themes. It's always best to set example from home.
5 Sustainable Tips on Earth Day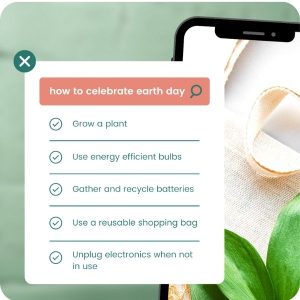 Here are 5 sustainable tips for you on Earth Day:
Grow a plant
Use energy efficient bulbs
Gather and recycle batteries
Use a reusable/canvas shopping bag
Unplug electronics when not in use
We should all do our utmost to protect the environment. Teaching children about the importance of recycling is the first step to encourage an environmentally conscious mindset.
The Scavenger Hunt Printables
The scavenger hunt for your little one is set to be outdoors. So, get your kids ready to explore the outside. Get the scavenger hunt here.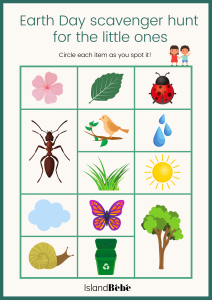 This scavenger hunt for older kids is slightly different. Kids are not just looking for items, but they have some tasks to do! Get this Earth Day scavenger hunt here.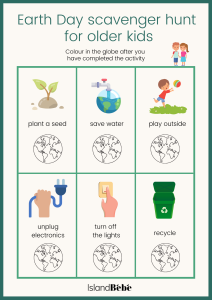 Happy Earth Day all!
Looking for other ways to entertain your kids? Check out the do list here.