Easter is a big deal in Malta. It's also a time when kids are off from school, and if you're trying to juggle work, you may need some activities to keep your kids away from screens.
Here are 6 treats we found that are delicious, simple and will be enjoyed by all ages.
1. Easter Egg Nest Cupcakes
Easter egg nest cupcakes are a classic Easter treat that is simple to make and always a hit with kids. All you need to do is start by baking some cupcakes, then top them with green-tinted coconut to look like grass. Then, add some chocolate eggs on top to create a nest-like appearance. This is a great opportunity to get creative with your toppings and use different colours and types of chocolate eggs.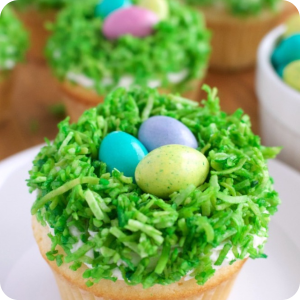 2.Easter Cake Pops
Cake pops are a delicious and festive Easter treat that all the kids will love. To make them, bake any flavour cake of your choice, such as chocolate cake, vanilla cake or carrot cake, then crumble it up and mix it with cream cheese frosting. Roll the mixture into small balls and insert a lollipop stick into each one. Next, dip them in melted white chocolate and top with sprinkles or any other festive decorations.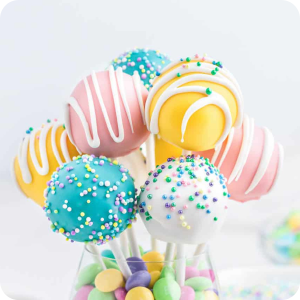 3. Easter Bunny Bark
Easter bunny bark is a simple treat that kids can help make. Melt some white & milk chocolate and spread it out onto a baking tray lined with baking paper. Add some pastel-coloured sprinkles and chocolate eggs on top. Once it has hardened, break it up into pieces and enjoy!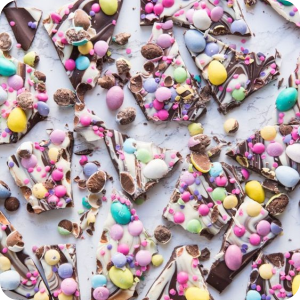 4. Easter Sugar Cookies
Easter sugar cookies are a classic treat that is fun to decorate with kids. Begin by baking some sugar cookies in different shapes such as eggs or bunnies. Once they have cooled, let your kids decorate them with frosting and sprinkles. This is a great way to get creative in the kitchen and have some fun.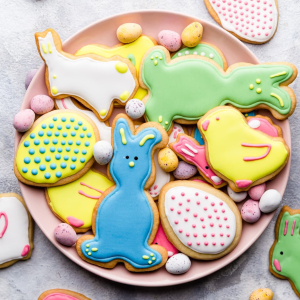 5. Bunny Pancakes
Bunny pancakes are a playful Easter breakfast that kids will absolutely love. To make them, start by making your favourite pancake batter. Use a squeeze bottle to shape the batter into bunny ears and a round face. Use some chocolate chips to create the eyes and nose, and add some whipped cream to create the tail.
6. Easter Egg Rice Krispie Treats
Easter egg rice krispie treats are a fun twist on a classic treat. Begin by melting some marshmallows and butter together. Mix in the rice krispies. Using the back of a spoon, shape the mixture into an egg shape. Allow to cool before decorating with frosting, chocolate eggs or sprinkles.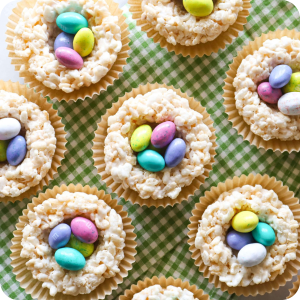 Easter is a great time to get creative in the kitchen and have some fun with your little bunnies. There are plenty of egg-citing treats to make together, from Easter Egg Rice Krispie Treats to simple Cake Pops. Just make sure to hop to it before the Easter Bunny arrives! We hope you have a joyful Easter filled with treats and giggles.
For more recipe ideas, check out our Island Foodie section on site.
Follow our Facebook Page and Instagram Profile for more ideas of Easter fun for your kids!