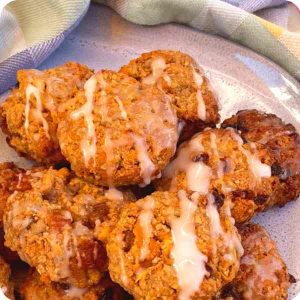 On world baking day, we're bringing to you this healthy recipe. Adding only natural sweetness, these healthy oatmeal cookies with apple, carrots and raisins are a yummy treat for your little ones. The sweetness in this recipe also comes from the honey which also helps to hold the mixture together.
Tip: These healthy oatmeal cookies are also eggless so they make for a great vegan option.
Healthy Oatmeal Cookies Recipe
Prep Time: 10 minutes
Cook Time: 18 minutes
Total Time: 28 minutes
Calories: 251 kcal
Servings: 20 cookies
Ingredients:
1 cup Raisins
1 tsp Cinnamon
1/2 cup Grated apple
1 cup Grated carrot
1 tsp Baking powder
1 cup Whole wheat flour
1/3 cup Honey or maple syrup
1/2 cup Coconut oil (melted), or you can use butter
1 cup Quick oats: Or rolled oats – ground finely in a blender or food processor
1/2 cup Seeds or chopped nuts: Choose from sunflower seeds, chopped walnuts, or chopped pecans
Ingredients for the icing:
1/4 cup powdered sugar
1/2 tsp milk
Method:
Add all ingredients to a bowl
Mix it all together
Line a baking tray with baking paper. Tip: Scrunch it up first for easier lining!
Pinch off small balls of dough about 3cm wide
Form into discs and place on baking tray
Place in preheated oven at 190°C for 18-20mins
Drizzle simple icing on top
For the icing:
Stir together the powdered sugar and milk/water. Then, use a spoon to drizzle it over the cookies. Serve and enjoy.

Healthy Oatmeal Cookies Video
Storage:
Store these healthy oatmeal cookies in an airtight container for up to 5 days. You can also warm them slightly to soften them a bit if they have been stored. You can also place the uncooked dough balls in zip lock bags and store in the fridge for up to 5 days, if you would like to bake them at a later point. If you opt to bake them later, add a pinch of salt to the recipe.
These cookies are so yummy! You will surely dig in too! Enjoy them with a cup of tea of for breakfast if you want to change things around.
Looking for more inspirational baking ideas for your little ones? Check our foodie section.