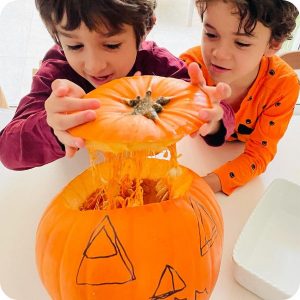 It's the weekend before Halloween, and every grocer on the island is brimming with pumpkins. 
Coincidence? Of course not!
It's the perfect time for your kids to get their hands dirty and carve their own Jack-o'-Lanterns. But if you're wondering what to do with all that pumpkin filling, we've got your back. 
We teamed up with Mandolina Bakes to give you a quick, simple and tasty recipe for Pumpkin Soup that will fill those hungry bellies once they've finished their works of art. Tried, tested and approved by her two adorable kiddos!
Pumpkin Soup
Ingredients
1kg pumpkin
2 large potatoes
1 large sweet potato
2 red onions
1 small garlic clove
Chicken Jelly stock
Salt and pepper
Dried thyme
Turmeric
Fresh cream
How to make it

Preheat the oven to 200°C (180°C if your oven is fan assisted).
Roughly chop the pumpkin and potatoes. Half the onion and leave unskinned.
Place all veggies on a roasting tray lined with baking paper (place the onion cut side up). Drizzle with olive oil and season with salt and pepper. Roast for 1 hour.
Pour 1 litre of chicken stock into a large pot. Add the veggies and warm on a medium heat.
Add the turmeric and dried thyme and let simmer for a few minutes.
Blend and serve with a dash of fresh cream.
Bon appétit!
---

Still hungry? Check out our Foodie section for more deliciousness!