This recipe has been brought to you in collaboration with Sarah Bajada. Sarah Bajada, mum of 2 year old Sam, fitness enthusiast, PT & founder of Sky Spirit Fitness Lounge, and now the host of The Voice Kids Malta.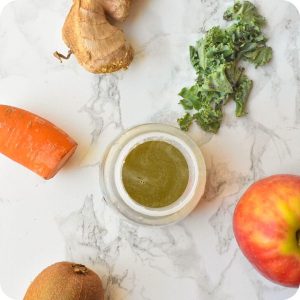 This super power morning smoothie for kids is simply made from a carrot, an apple, a kiwi, ginger and some kale. It is the definition of a healthy smoothie packed with nutrition. Apart from the fact that it tastes delicious, it only takes 5 minutes to make. This smoothie contains sweetness from the apple, vitamins and minerals from the carrots and kale, and with a kick of ginger, the flavour is on a whole new level.
Super power morning smoothie for kids
Ingredients:
1 kiwi
1 carrot
1 apple
1 ginger
Some kale
Water
Ice-cubes
A dash of honey (if you want to level up the sweetness)
Method:
Add the kale, apple chunks, carrot, chopped ginger, water and ice in a blender. Add some honey if you wish.
Blend until smooth.
If the smoothie is a bit thick, add some more water to adjust the consistency.
Substitutions:
Apple – If your kid is not a fan of apples, you could always substitute this with a pear. This will give the closest taste. However, you can add any fruit of your choice to add in the sweetness.
Kiwi – Try a mango instead.
Carrots – Try using baby carrots instead.
Ginger – If your kid finds ginger to sour, then leave this out, or add some lemon instead.
Kale – This is what makes the smoothie green. You can substitute with another leafy green or use 2 green leaves such as spinach and kale. You can also try using avocado.
Mega Cleaning Hack
After using the food blender, fill with with water, add a dash of liquid soap and put it back on. Let it do the cleaning! Re-fill again with water to eliminate any other dirt or so. Simple hack, and less work for you. Works wonders!
Check out our island foodie section for more recipe ideas for kids.