You spot the perfect outfit for your toddler, only to realise the store doesn't deliver to Malta – we've all been there! And while there are some great third party delivery services, sometimes it's hard to justify the additional cost. To save you from getting lost in the depths of the world wide web, we've rounded up some of the top online kids' shops that are based locally or deliver to Malta.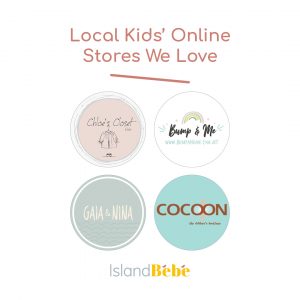 Chloe's Closet Malta
Chloe's Closet is a small family business, big on sustainability and ethical wear. They run an extensive range of clothing made with the best, GOTS certified materials: GOTS certified, 100% organic cotton, linen and bamboo fibers. Since their pieces contain no chemical residue, they're an ideal choice for all babies and kids, but especially those with easily irritable skin, or dermatological conditions, such as eczema and psoriasis. 
Free delivery for orders over €30; otherwise €5.
Founded in 2017 by solicitor and work from home mum Rachel, Bump & Me today stocks a great selection of award-winning brands for comfortable, stylish and fun clothing for babies and kids aged 0 to 10. They also have the most adorable Halloween section to add some spookiness to the season!
Free delivery for orders over €30; otherwise €5
We can't get enough of each piece of Gaia and Nina's stunning collection. Their unique line is ethically made with organic textiles and carefully sewn in small batches. Their dresses are pure sophistication and a heirloom, perfect pieces to lovingly pass from one generation to the next. Oh, and did we mention that they wash extremely well? A definite must when it comes to kids' clothing!
Free shipping over €150
A family-run outlet, Cocoon stocks baby, kids and teenage wear at its physical shop in Victoria, Gozo, as well as online. They also have a great selection of baptism dresses, confirmation suits and the cutest occasion outfits.
Free delivery for orders over €30; otherwise €5.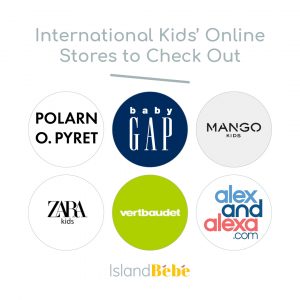 Polarn O. Pyret
We really can't have enough when it comes to Polarn O. Pyret. The brand prioritizes outdoor play and its pieces reflect this, with outerwear that's comfortable, safe, functional and sustainable (it actually grows with your child). Their signature stripes are everything and they also run the most gorgeous prints.
Free delivery for orders over €50; otherwise €9.90.
Baby Gap remains a firm favourite in our household. Gap's baby line extends to age 5 so you can find adorable, age-appropriate styles for preschoolers, too. They run an extensive selection of both casual and occasion wear – expect to spend quite some time on the site as there's so much cuteness to go through.  
Free delivery for orders over €35; otherwise €9.90.
No custom fees are charged.
Mango and Mango Outlet
Mango's kids line has been growing from strength to strength – they're also sustainable. We particularly love their range of toddler and girls' dresses, as well as the most dashing blazers for little boys! Their main line is already affordable, but there are some serious steals on the mangooutlet site – think year-round sale! 
Free shipping on orders over €75; otherwise €5.95.
Where do we start with Zara kids? Stylish and comfortable and the perfect brand if your little one loves to dress like a mini-adult. Their seasonal sales are also to die for – there's so much choice at little prices, so do look out for those if you're not too fond on spending too much on seasonal clothing (Because let's face it, kids grow SUPER fast)
Free pick up in store, or €4.95 if you choose home delivery
We discovered this brand six year ago, and we've been loving it since! 100% French, Vertbaudet stocks the most functional and pretty newborn and baby sets, an ideal gift for the new parents in your life. Their toddler and kids lines are also gorgeous, from multipacks for daily basics to adorable and affordable occasion wear. Make sure to size up when shopping though as they run on the petit side
Free shipping on orders over €100
If you simply adore branded kids' clothes, then Alex and Alexa is perfect. They run famous and lesser-known designers with everything from classic and traditional clothing, to playful and cutting-edge design. Get ready for cute little mini me's in branded polo shirts and matching caps!
Free shipping over €100
For more tips and products we love, check out our Island Recommended Products here.