We were approached to sample and review the Sanosan range available at Brown's Pharmacy and were happy to try them out – on condition that we'd be able to share a completely honest review.
We were gifted 4 products in all:
Sanosan Kids Easy Comb Spray
Sanosan Baby Range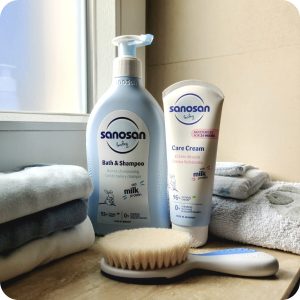 I tried out the baby range with my little one who is currently 5 months old. The range is remarkably… clean. Bear with me – I know that these are cleansing and caring products, so isn't it obvious that they'd be clean?
What I mean is that they look, feel and smell noticeably "cleaner" than any other product I've tried for my newborn. Other common baby skincare brands I've tried so far tend to all feel a certain way which I was used to – they're similar to adult products in their consistency. This was noticeably different.
The bath gel is completely transparent and feels lightweight in the hand, and if it wasn't for the bubbles in the water you'd hardly notice that there was any soap in the bath at all. The cream is crisp white and silky to the touch, spreading easily and absorbing into the skin instantly. The products do not have any added fragrance, but have a natural, refreshing scent.
Sanosan Kids Range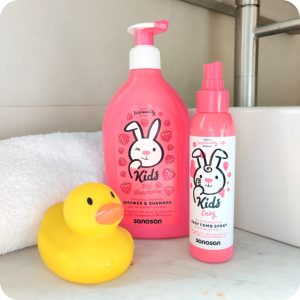 We said from the start that this is an honest review, so here goes. We weren't too sure about the kids products we were given because we're not huge fans of strong fragrances, and the packaging screamed Raspberry!
That said, we'd heard so many good things about the kids range already (and we did really love the baby range) that we were willing to give them a try.
Truth be told, we're sold.
A fiesty little 2-year old sampled the Shower & Shampoo gel. His sensitive skin has a habit of flaring up whenever it comes into contact with questionable ingredients. As we expected of the Sanosan range, this was not the case. The scent was the most exciting part of the experience for him – he loved it (and yet it was delicate enough for the parents). As for the consistency, it's very similar to the baby bath gel. It's surprisingly lightweight and gentle, while still being effective in cleaning every inch of an adventurous little toddler.
Tracy sampled the Easy Comb Spray on her unruly waves. It worked a treat! It does exactly what it says on the tin with no tugging or pulling (which means no tears!) The same raspberry scent is pleasant when in use, but doesn't hang around once you're done. That's a plus in our books. It goes to show that the frangrances are gentle and natural.
The verdict
All in all, we're now the three newest fans of the Sanosan baby and kids range. If you're underwhelmed by the bottles by your bathtub, we'd genuinely suggest you give them a try. We actually look forward to using them every day now, and will be purchasing them ourselves (at full price) once these gifted bottles run out!
For the record, we were already fans of the Sanosan products for new and expecting mums – check out the Browns Pregnancy Pack for more info!
The entire Sanosan range is available at any Brown's Pharmacy – find your nearest outlet here.
---
Check out our other product reviews and shopping guides!