While self-employment and freelancing have plenty of benefits, the admin part does tend to suck the joy out of it. Calling state customer care for help with income tax, social security contributions and other benefits is like participating in a lottery – you either win or you lose, with a much higher chance of landing on the latter. While some agents are super helpful, others seem to have missed much of their training, leaving callers feeling confused rather than sorted.
As a freelancer, navigating this part of my business was stressful and time consuming. But it also came with its own lessons: when dealing with bureaucratic processes, you have to do your own research. As new parenthood is probably the worst time to be calling multiple government entities, we've compiled this handy guide to refer to when looking at your maternity leave options as a self-employed or self-occupied mum.
Self-employed vs self-occupied in Malta. What's the difference?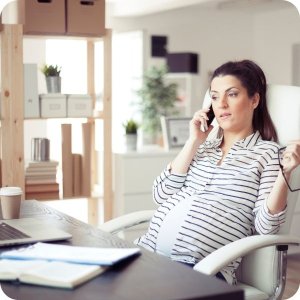 Turns out, a lot!
Self occupied persons

are persons who earn their income from a trade or skill. 

Self employed persons

are persons who earn their income from rents, interests and investments.
So, if you're a hairdresser or graphic designer, you fall under the 'self-occupied' umbrella. If you rent out properties, or live on interests, then for social security purposes, you're regarded as self-employed.
This technical jargon affects the maternity leave benefits you're entitled to so it's important to be aware of the distinction. 
Self-occupied women are entitled to a Maternity Benefit and a Maternity Leave Benefit.
Self-employed women are entitled to a Maternity Benefit only.
Again, these two terms are awfully similar (and confusing) – let's unpack it all.
What's a Maternity Benefit?
Women in their eighth month of pregnancy ordinarily resident in Malta are entitled to this benefit (Benefiċċju għall-Maternita', in Maltese).
Self-employed women receive a flat rate of €101.34 per week for 14 weeks. (

2022 rates

)

Self-occupied women are entitled to €182.83 per week. (

2022 rates

)
At least six out of these 14 weeks must be availed of once the baby is born. You can choose to receive the payment in full or in two instalments, before and after the birth.
You can apply for this benefit if you are:
Not employed

Self-occupied

Self-employed

Employed, but will not be availing of maternity leave from your place of work
What is a Maternity Leave Benefit?
If you're self-occupied, you can apply for an additional benefit – Benefiċċju dwar Liv tal-Maternita'). In 2022, you are entitled to €182.83 per week for an additional four weeks.
You can apply for this benefit if you are:
In an insurable job and entitled to maternity leave

Self occupied and you have received the full maternity benefit listed above
How can I apply for maternity benefit and maternity leave benefit? 
You can find the application for Maternity Benefit here and the application for Maternity Leave Benefit here. Note – you will need to present a medical certificate signed by your doctor.
You can apply for Maternity Leave at 8 months pregnant. The first part of the benefit covers eight weeks before the due date. The second part covers six weeks after the birth. If you plan to work up until your due date, one payment covering the 14 weeks is made after the birth.
You must submit your Maternity Leave Benefit application after the 18th week of maternity leave. Applications received after 6 months from the 18th week are considered as late applications. The benefit may be refused.
Check out the table below for a quick summary:

Who can apply

Number of weeks

2022 rates (/week)

How to apply

Maternity Benefit

Self-occupied (SO)

Self-employed (SE)


14

SO: €182.83

SE:  €101.34

Apply here


Maternity Leave Benefit

Self-occupied 

4

€182.83

Apply here
Maternity Leave in Malta
What to consider when applying for the maternity leave benefit as a self-occupied person.
As a self-occupied person, it's not always possible to entirely stop working for 18 weeks, especially if you have clients dependent on you. It's good to know that, if you avail of the maternity leave benefit, then you cannot work during those four weeks.
Who is the entity responsible for maternity leave in Malta?
The Department of Social Security manages maternity leave applications in Malta. In case of questions, you can call on 153 (freephone) or contact the regional social security hub closest to you.
To conclude:
Maternity leave as a self-occupied person is a whole different ball game when compared to maternity leave as an employee. As an employee, there's often someone ready to take over while you're busy getting your strength back and caring for a newborn. As a freelancer or self-occupied person, it requires more strategic thinking in advance to coordinate client work and manage schedules. But remember, you've come this far, so you can do this, too!
Sources
Servizz.gov.mt
Ec.europa.eu
Last reviewed: January 2022
---
Check out our Parenting Experts section to find local, practical advice about all things parenthood in Malta!