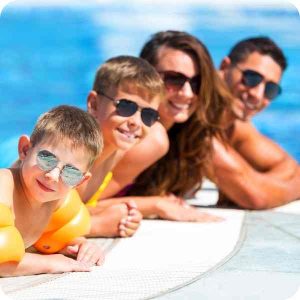 Beat the heat with a refreshing swim and be sure to book a family day by the pool this Summer. There are many venues including hotels and lidos that offer the service of a day by the pool; some through a daily fee and others through a month's membership. For those who are not a fan of going to the beach, and would rather stir away from sand and itchy sea salt, a day by the pool would make for a great alternative.
Pool facilities
Many hotels will provide you with a sun bed and an umbrella during your day by the pool. Usually, you get towels too but it's always best to check about this before your visit there. Many hotels also offer access to showers.
Pool times
Many venues that do offer a day by the pool, usually have a timeframe from 9:30am till 6pm. However, some places offer a half day service which usually takes place from 2pm onwards.
Booking for a family day by the pool
Since in Malta, Summer is the travel season's peak, we recommend placing your booking at least 2 days to a week ahead.
The best hotels that offer a family day by the pool
Click through to get details, rates and info on how to book!
Which hotel or hotels will you choose to spend your days by the pool with your little ones this Summer?
Looking to fill the summer holidays with activities for the kids? Check out the do list here.