Treat the babies and children to top family-friendly attractions, interactive activities and fun October events in Malta this October. 
Whether it's with babies or toddlers, keep the kids entertained (and on your side) by packing your October with unique experiences and exciting bustle. Check out our pick of the island's best family activities and events over this autumn month. 
 GRAVITY CHILDREN'S WORKSHOP, OCTOBER 9TH, 11:00AM-12:30PM / 2-3:30PM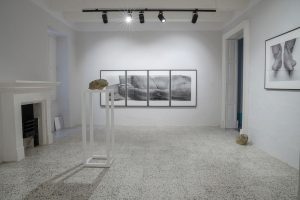 As part of Valletta art gallery Blitz's current exhibition Gravity, children aged between 6-12 are invited to create their own visual story by using humanlike and natural elements, real or fictional characters as well as text if they feel like. Led by visual artist and art educator Kristina Borg, this is an exercise in understanding and treasuring diversity, as well as finding an artistic way of expressing it. Each story can include fantasy elements and evolve into representational or abstract form. While participation is free and all materials are provided, booking is essential as places are limited. 
 More info https://fb.me/e/46dcWgMPv.
OLIVE PICKING – OCTOBER 17TH, 10.30AM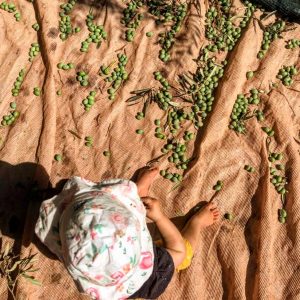 An event organised by and at Vincent's Eco Estate, their olive picking day on October 17th promises to be a "relaxing jam-packed day". Visitors are invited to learn how the estate owners pick their olives traditionally and grow their crops organically. The farm manager Pawlu will harvest some olives followed by a picnic in the olive grove. For a duration of a little over 5 hours, this is a potentially great experience for the kids, particularly in this cooler time of year. The charge is €35 per person or at a discount for couples of €60. The family price (2 adults and 2 kids) is €80, while the charge for kids over 8 is €15. This includes a welcome drink, a farm tour and food tasting, olive picking, a picnic, as well as a tea and jam tasting. There will also be kids' activities available on the day, while bicycles and scooters are welcome. 
More info https://vincentecoestate.com/product/olive-picking/ 
FAMILY MINDFUL PICNIC, OCTOBER 17TH, 10AM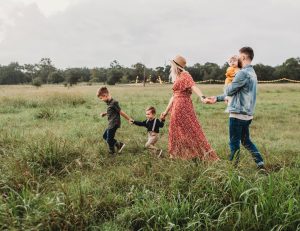 Encourage the family to connect with nature and bring children of all ages to the Aloha Happy Kids Family Mindful Picnic to practice family yoga, feed animals, partake in natural crafts and eat healthy food at the Koperattiva Rurali Manikata. For a duration of 3 hours, the charge is €50 per 1 adult and child plus €10 for each extra person. 
More info https://fb.me/e/2zRpQyD63 
HALLOWEEN SPECIAL 2ND EDITION, OCTOBER 23RD, 10-11.30AM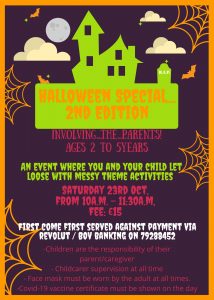 This Halloween event held by Little Thinkers at their nursery in Mosta is where parents and children can let loose with messy theme activities without having to worry about clean-up. While there is childcare supervision at all times, children aged between 2-5 years are at the responsibility of their parent/caregiver. Also, a Covid-19 vaccine certificate must be shown on the day for parents to be allowed entrance. The fee is €15.  
More info https://fb.me/e/13MjW5RfH 
 CHILDREN'S HALLOWEEN WOODEN CRAFT WORKSHOP – OCTOBER 23RD, 12– 1PM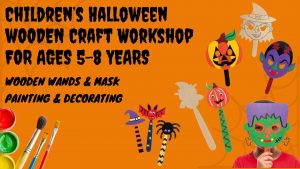 An event by Beks Creations held at the Birkirkara Shop for children aged 5-8, this hour promises some spooky fun with a Halloween-themed craft event. For €12, children will be given the supplies to paint and decorate Halloween masks and wands, as well as receive a goody bag.  
More info https://fb.me/e/4IUtNvLS9 
HALLOWEEN SPECIAL 3RD EDITION, OCTOBER 24TH, 10-11.30AM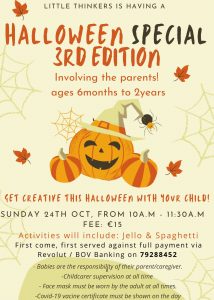 Another event held by and at Little Thinkers in Mosta, this Halloween Special 3rd Edition invites to include the parents of children aged 6 months to 2 years. Activities will incorporate Jello and Spaghetti… sounds fun and ominous simultaneously! The fee is €15 and while there is childcare supervision at all times, children are the responsibility of their parent/caregiver. A Covid-19 vaccine certificate must be shown on the day for parents to be granted entrance. 
More info https://fb.me/e/1ofgu06lZ 
GLOW IN THE DARK (HALLOWEEN EDITION), OCTOBER 31ST, 10 AM / 12PM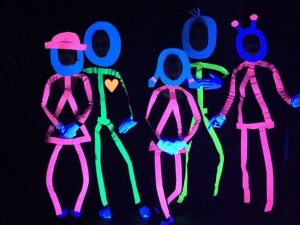 An event held by Aloha Happy Kids at The Line Fitness Centre in St. Julian's promises Halloween lovers to have fun on the day with Glow In The Dark. Kids are encouraged to put on their Halloween costumes to enjoy the colours and lights while practising yoga, dancing, playing games, and getting creative. It's a drop off event over an hour and a half and the slot for children aged 3-5 years is 10am, while 6–9-year-olds can take part at 12pm. To ensure that covid measures are in place, groups are limited to 10 children and parents are asked to drop off the kids. 
More info https://fb.me/e/1Le1aIWpm
 WORKSHOPS 
 MAMA'S SUPPORT GROUP – AN ONLINE EVENT – OCTOBER 26TH, 7:30-8:30 PM 
Organised by Parent-Infant Mental Health Alliance, this free online support group for expecting or new moms who may be suffering from depression or anxiety will offer attendees the chance to meet fellow mums to share their experiences in an informal setting. The group is led by mums who have survived postnatal mental health illness themselves.  
More info – email: [email protected] 
 HOW TO DEAL WITH THE TERRIBLE TWO'S – ONLINE WORKSHOP – OCTOBER 28TH, 4.30PM (DURATION 2 HOURS) 
This event is not technically for the kids, but it actually is if it'll help mummy cope with them better. This is a free online workshop by qualified psychotherapist My Poppins & Co, which focuses on the Separation-Individuation Process and how to deal with the Terrible Two's. 
  More info https://forms.gle/UJdTr3SnCGAFLFFq9 
For more ideas of what you can do with your kids, check out our Island Activities section!