This article contains products we love from Brown's Pharmacy. 
Summer is here and the pandemic situation has become manageable enough for life to open up again. This means that travel plans will be soon be in full swing, even if it's just for staycations.
This is especially exciting for new parents who may have been stuck at home with a new baby for a while. Getting out of the house and carrying out our usual routine somewhere different is a nice feeling.
But then you remember you have to pack for a mini human that needs way too many things. Suddenly it all feels a bit daunting. What if you forget something? Or, what if I bring too much or too little? What do I even need?
To help take the stress out of your well-deserved-travel preparations, we've put together an example weekend break packing list for a baby. This includes suggestions of things to bring with you. Not everything on here will be relevant to your particular situation, but we made it as exhaustive as possible. Like this, you will have inspiration and a visual to tick off as you go along.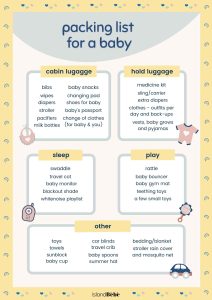 If you find that you've got way too much stuff and you're struggling to close your suitcase, here are a couple of tips to save some space.
If you breastfeed, you might decide not to pump while away saving you the hassle of bringing all the pump stuff with you.
Instead of bringing a bottle warmer, you can use a coffee mug and hot water from your hotel/restaurant.
Instead of bringing your baby monitor system, make us of the monitor apps available for mobile devices.
Leave the baby bathtub at home and let them splash around in the sink instead.
If you're going to be spending some time by the pool, we recommend packing the following products to protect yourself and your little ones from the heat.
Sun protection cream 50+ SPF – Our go to is Pharamceris 50+SPF sun cream, available at Brown's Pharmacy.
After sun cream – We love the soothing Lirene SOS after sun cream. You can purchase it at Brown's Pharmacy.
Baby moisturiser and lotion  – We recommend Sanosan Baby Care Lotion. You can find it at Brown's Pharmacy.


Want parenting tips and tricks directly in your newsfeed? Follow us on Instagram (@islandbebemalta) and Facebook. You can also check out our Experts Section on site for professional advice on mama, bébé, and more.