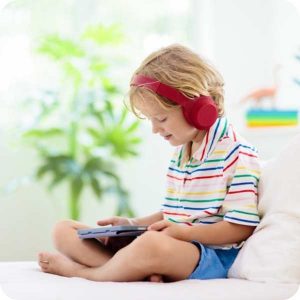 As parents, we all have different opinions on screen time – but I guess we can all agree that a total ban isn't that realistic. As with anything else, balance is key, especially as children establish their screen time habits very early on. 
There are no clear guidelines on how much screen time is ok – recommendations by different organisations are actually contradictory. Whereas the American Academy of Paediatrics (AAP) recommends a maximum of one hour a day for kids aged two to five, the NHS recommends an upper limit of two hours per day for all children. 
That said, every child is different and you have to see what works for your own family. We like the UK Chief Medical Officer's suggestion: 
a 'precautionary approach' balanced against the potential benefits of using screen devices. With a boom in learning apps for children, screen time can be beneficial – it can also complement other activities at home and at school.
In this article we're sharing 4 learning apps for preschoolers that are great for meaningful screen time.
Marco Polo Learning 
Marco Polo Learning's award-winning content is designed to nurture curiosity in children, inspiring them to be more open to learning. The subscription-based curriculum is developed by early learning experts to teach essential language, maths, science, literacy, and social emotional skills. The online programme is supported by offline learning through themed worksheets sent directly to your inbox.
Check it out here

Khan Academy Kids 
A free (and with no ads!), fun educational program for children aged two to eight, with original books, seasonal learning programs and printables to smoothly move between online and offline learning. Khan Academy's Circle Time also gives your child access to safe YouTube videos with interactive stories and lessons. 

Check it out here

Hungry Caterpillar Playschool
Eric Carle's infamous caterpillar is the star of this marvellous learning app for preschoolers. Many of the games and songs are appropriate for kids at the younger end of the suggested age range (2-6), and the books are great for kids who are starting to learn to read. It also includes lots of helpful parent tips on how you can support your child's learning journey on the app.
Check it out here

LeapFrog Academy Learning
If you're a parent, chances are you're already aware of the LeapFrog brand. LeapFrog Academy Learning is a subscription-based program that brings together more than 2,000 games, activities, ebooks and other learning content into one platform. Best for ages 3 to 6, the app covers maths, science, problem-solving, reading and writing, art, music, health and social emotional skills. 
Check it out here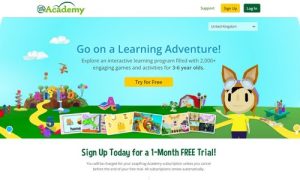 When balanced with a healthy dose of outdoor fun and other activities, screen time provides a fab opportunity for learning for young kids. Thanks to learning apps for preschoolers such as the ones we listed above, kids can explore a wide range of themes and subjects, taking in a lot of knowledge along the way! 
Visit our latest articles for more parenting tips!