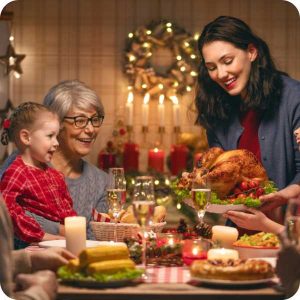 With the higher cost of living, we're all feeling the crunch – add a couple of kids, and the expenses continue to pile up. With the holiday season fast approaching, we thought we'd share some tips and tricks for a fun and memorable Maltese Christmas on a budget.
Our top 7 tips for a Maltese Christmas on a budget:
Keep an eye out for supermarket offers
Most stores in Malta promote weekly offers on specific food items and other non-perishables. While we're still a few weeks away from Christmas and all the dinners and guests that come with it, it helps to keep an eye out for offers and stocking up on items that you'd be using when hosting. It's also a way to spread the cost over a period of time. You can find out about these offers on store's websites or on their apps. The mail in catalogues are worth checking too before chucking in the recycling bin or using for crafts.
Shop around
And on that hosting note – planning dinners for many people can get expensive. Buying veggies from the farmer's market, meat from the butcher, and shopping the sales as shared above can keep your overall expenses lower.
Set a gift budget
It's so easy to go overboard and lose sight of the bigger number when shopping for gifts. Make a list of people you usually buy gifts for and set a budget for each. This gives you easy access to your overall total and keeps you more in check when deciding between differently priced options. The same applies for the kids – set a budget for each and try to stick to it (we know, easier said than done!)
Consider shopping alone
That is, without the kids. As recommended by gemma.gov.mt, going shopping sans kids will very likely turn out cheaper than if you went en-masse. Have you ever ventured into a toy shop with the kids and did not experience a tantrum? Us neither. Decide if you're going to extend this just to glittery toy shops this Christmas or also to supermarkets – the latter are full of the most amazing sweets (and some also toys) during the holidays. 
Make the most of free events
As soon as Halloween's over, social media is flooded with Christmas events for the family. While they all sound great, it's also quite impossible to do more than a few. Tickets can get expensive, especially if you have more than one child. Don't worry about you and your child missing out, though! We're lucky enough to still have a big selection of free events in Malta to get us right into the Christmas spirit. 
Start saving early
This one's more long-term, so more of a next-Christmas-goal. Considering the extra events, hosting, and gifts, Christmas can get expensive. We love The Budget Mom's approach where she sets 'sinking funds' for bigger, less frequent expenses. Simply put, a sinking fund is a short-term savings strategy for a specific, predetermined expense that's not an emergency, but which you still need to save for.
Case in point, Christmas. All you have to do is determine your total and divide it by the number of months you have available to save. That's the amount you'll need to save each month to get to your overall goal. Vaults by Revolut is great for this if you're not too fond of a cash system. Simply open a new vault titled Christmas and put away money each month. Be as consistent as possible and we promise, you'll be SO grateful when Black Friday rolls around!
It's not about the money
Christmas isn't about how much money you spend, it's how and with whom you spend your time with. Resorting to credit cards to finance the holidays will only bring stress and frustration when repayments are due. Living within your own means provides your family with stability and security – two things that are, ultimately, priceless all year round.
Those were our main tips and tricks for a Maltese Christmas on a budget. We hope that you've found them useful!
Keep up to date with our latest articles and tips.