Rene Rossignaud is a Maltese photographer renowned for his lightning strike images, celebrity captures and, most notably, his photographic coverage of war zones and revolutions that changed the course of history. He's also an avid adventure seeker, imparting his love for the outdoors on his three kids, Ella (15), Sophie (11), and Noah (5). He speaks to Island Bébé about his work and single fatherhood.
Covering War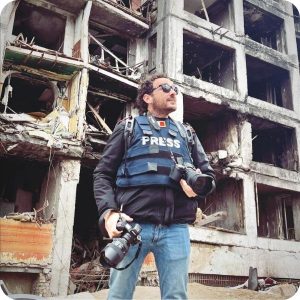 Rene stands in front of a large trench in Irpin, black body bags visible right behind him. Next to the trench are two white tents belonging to the National Gendarmerie Criminal Research Institute (IRCGN), French crime scene and victim identification experts. A team of doctors and gendarmes are exhuming bodies from a mass grave. They are collecting evidence, and preparing the bodies for a proper burial. The reason: alleged war crimes.
"It's hard to describe the stench, unbelievable… there are many smaller bags, children have been buried here… it's shocking," a visibly moved Rene says in one of his update videos on Facebook.
The last time he was in or close to a tent, the mood was strikingly different. Only a few days before leaving for Ukraine, he was solo camping in Italy with his three kids. As a dad, the pain of war hits differently, but fatherhood never abated his passion for photographing and bringing to light human suffering – if anything, it strengthened it.
Fatherhood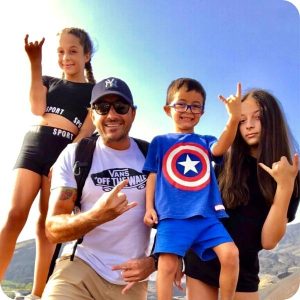 "Fatherhood changed me – it changed the way I think, my priority is my kids," Rene says. He's aware that what he does affects them, too. "My eldest, Ella, is very proud of what I do, while Sophie asks many questions about what I see. She is at that age where she wants to feel included in my planning for war zones, while Noah is still too young to understand my passion for war." 
The older kids are invested in what he does – they ask to see the images he takes and ask him to explain what he saw. It doesn't stop them from worrying while he's away, though. "This is my fifth war – the kids get worried but they are used to it. I have a body tracker on me 24/7 so my kids can see my movements live even if we cannot call or text and this helps them," he explains, nonchalantly.
War – and the human pain that goes along with it – affects him too. "I always experience sleep issues for a week or two once I return from a war zone." However, it's all hands on deck with the kids as there's no such thing as staying on the phone or watching tv at home while they're with him. 
Fatherhood doesn't leave Rene with much time to dwell
"Kids time is shared with my ex and I try to do my best when they're with me. This means a lot of trekking, offroading, picnics in the wild during winter, and kayaking, stand up paddling or camping in summer." They love Selmun as it's not easily accessible and Riviera for winter treks. "My kids are used to 5-7K treks even in the wind or rain because this is what was always normal for them," he says. In short, fatherhood doesn't leave Rene with much time to dwell.
Being adventurous with the kids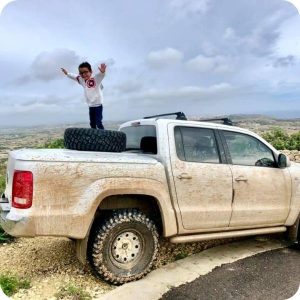 He recalls his latest camping trip. "Being alone in a camp with three kids wasn't easy, but they will remember this forever and it's what creates a bond between dad and kids". "I've done enough solo travelling with the kids to last me a lifetime," he adds. To those of us who are apprehensive about adventure travelling with kids, Rene has this advice. "Go with the flow, don't hassle on small things, getting dirty or maybe hurt. These types of experiences will last them a lifetime and at times are better than any school education". It's easy for Rene to see the bigger picture when his routine risk assessment includes missiles and kalashnikovs.
And speaking of risk – pushing the limits is something that's accompanied him from childhood. "I grew up as an avid BMX rider, from the age of seven I practically lived at the BMX track in Pembroke, building ramps with our bare hands, breaking so many bones." It's what started his love for the outdoors – and photography – he reminisces. "I had my first proper camera at the age of 14. We used to take photos of us jumping and with the images we could see who jumped the highest." 
Life is there to be lived, live it
He believes we all have a role to play in encouraging kids to be more active. "We live in a digital world where phones and technology are destroying lives, families, and relationships. Get off that phone and see the world around you. Life is there to be lived, live it. The younger kids start to appreciate these little things in life, the better for them". 
Our chat ends, and Rene munches on Twistees on a long trip back to the EU's borders – and safety. Soon enough he'll be exploring the great outdoors again, this time, in peace. As much as three kids allow, of course.
Looking for more inspirational content? Head to our articles and tips page here.