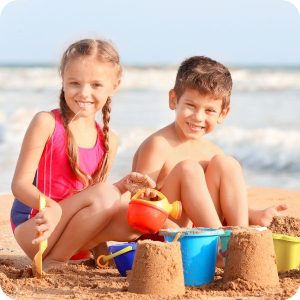 As parents, we may never know what to expect on a day out. Our kids might have a huge tantrum, they might get injured, or get sick. Being prepared for the minimal things that can happen, will at least put our mind more at ease. It's great to have a summer packing list and follow it before you head out to your planned activity. We've got you covered!
Seeing that in Malta we like to take our kids to beach days, pool days or to the park in summer, we've created a checklist for each of these. So you can have a little break, prepare the items on the list and tick along.
Jump to:
Life's easier with a little breeze at the beach, even when you're with your kids. Use this list to pack for a fun-filled day at the beach. We recommend taking a mesh bag to throw in all the beach toys and shake off the sand before leaving. Another item that we encourage you to take is baking soda. In case of a jellyfish sting, rinse the area with a mixture of sea water and baking soda. Talc-free powder is another great addition to your packing list.  This will help to get the sand off before heading off to the car. Get your free beach summer packing list here.

Still looking for a beach to go to? We have 2 lists with the ideal family beaches in Malta and Gozo.
Whether your kids are still newbies to the pool or they have been there before, packing the essential thing for a day by the pool, will allow you to enjoy your time better. So, don't leave the house before you have ticked off all of the items on this packing list. We all know that heading back home because you forgot to pack something can be dreadful, especially in this heat. Get your free pool summer packing list here.

For those of you who are looking for the best places for a family day by the pool read this article and book your day in advance.
As the summer days start to get a little bit cooler, or if you're choosing sunset time, prepare the basic things for your picnic family date. You don't need much but make sure that the essentials are there. Get your free park summer packing list here.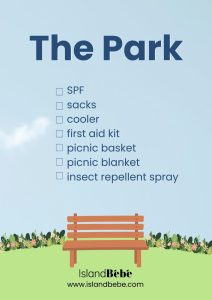 If you're looking for activities to do with your little ones this summer check out the do list here.