As Co-Founder of SHE, a community for women in business in Malta, Sarah Woods talks to us about this invaluable social hub.

With remote working becoming increasingly encouraged, and ecommerce platforms like Shopify and Etsy doing all the work for you, it's never been easier to start up a business. This flexibility means that more opportunities are opening up for mothers who want to follow their professional dreams but don't want to spend 40 hours a week in an office away from their children in order to do so.
SHE is an in-person and online hub for women entrepreneurs in Malta looking for support, advice and encouragement throughout their professional journey. So, if you're a woman who has been toying with the idea of starting up your own business, these ladies are sure to give you the confidence to take that step.
We spoke with Co-Founder, Sarah Woods, to find out more about the community and how they help women in Malta turn their dreams into reality.
When was SHE established and how would you describe it?
Julia Perry and myself launched SHE in 2017 with the intention of bringing like-minded women together in a safe, inviting and inclusive space. The community is essentially a hub for women seeking inspiration and encouragement in life and business, but it is also so much more!
The community is known for its networking events that have unearthed a sense of belonging and sisterhood. SHE's events have been taking place in selected venues around the island of Malta where guest panellists from a variety of career backgrounds are welcomed to enlighten our audiences. Added elements within the event schedule include independent market stalls, refreshments from quality catering establishments, entertainment by local artists and trademark goodie bags filled with specially selected gifts for all attendees.
More recently, and ever since the pandemic struck, SHE has launched an online membership in which we offer a series of online workshops and inspirational talks to our community to keep them engaged and inspired throughout these uncertain times.
What was it like as a mother creating this venture?
Time management became crucial and I had to coordinate the bulk of my work while the kids were at school or engaging in after-school activities. In the build up to, and during, the actual networking events themselves I was fortunate to have a support system of family members who were willing to step in to assist with the kids.
That said, creating SHE amidst an already hectic family life gave me a huge sense of fulfilment and I thrived off the special energy that each networking event brought along with it. The community allowed me to exercise my creative and business mind outside of family life.
How does SHE help women in business?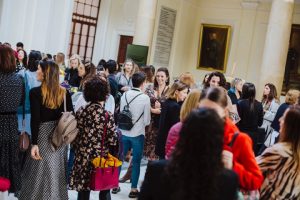 SHE helps women create and cultivate lasting relationships that will prove beneficial to your business. The solo entrepreneur's journey can be a lonely one and communities like ours provide continuous support on both a social level as well as a business one.
SHE is currently working on an extensive project to take the community online, which is planned to be launched in January 2021. The idea is to create a safe virtual space where SHE members can continue to network, exchange ideas, learn new skills and feel inspired to move their career forward. For more on this head to our website at https://www.shemalta.com/online-membership/ and join Malta's leading women's networking community.
What are some of the success stories from the women that have been part of the SHE community?
We have inspired community members to take the plunge and start off their own business venture whilst providing ongoing encouragement and support along the way.
We have seen small new businesses that have received exposure through our events grow and flourish. We have witnessed collaborations and partnerships being born as a result of a chance meeting at one of our events.
In some cases, we have even assisted members of SHE to overcome emotional distress that had impeded their ability to move forward with their ideas and aspirations. This is the power of community and this is what drives us daily!
How have you found the relationship between motherhood and entrepreneurship has changed in recent years?
I believe we have been experiencing a gradual paradigm shift with technology constantly evolving and responding to our needs. This has made it much easier to set up shop remotely and with less overheads. It also allows for flexibility in terms of organisation, ease of communication and financial transactions.
What challenges do mothers still face in the entrepreneurial world?
Mothers all experience an element of guilt when attempting to balance work and family life. It is something that is ever-present and needs constant positive reinforcement.
I would also say that mothers are often facing the challenge in a relatively conservative society, slow to accept the evolution from homemaker to bread-winner as well.
Finally, I think that not all mothers may have a strong support system in place, and many may have to seek child care with the additional financial burden that it brings.
What would you like to see change to make it easier for mothers to start a business in Malta?
Perhaps easier access to funds either in the form of bank financing or venture capital.
What advice would you have for a mother wishing to start their own business?
The entrepreneurial journey is not for the faint-hearted. You have to be ready to fail at times, don't let this discourage you. Trust the process! With enough passion, planning, dedication and hard work you can achieve anything!
Truthfully, raising a family is not dissimilar to running a start-up. If you think about the similarities in terms of skills that are needed, one can say that mothers already have a head start!
And finally, don't underestimate the power of networking with other women in business. There's something to be said about networks like SHE and getting involved with other like-minded women who are building businesses of their own. Apart from feeling supported by liaising with women in similar situations, you may just find new clients, new business opportunities, sound advice, referrals, investors or just someone to brainstorm with!
Thanks to Sarah Woods for sharing her expertise with us. If you'd like to more about SHE and the local business community, check out their site and socials.
SHE Instagram: @social.hub.entrepreneurs
Get to know more local heroes who know exactly what it's like to be a parent in Malta in our Island Parents section.