When it comes to parenting, although the father's role is changing, the daddy blogger is still an uncommon creature in the online landscape. They tend to be drowned out by the stampede of mummy bloggers telling you how to take the perfect family photo or bake cookies without getting your kitchen dirty.
So, it was refreshing to hit the bright lights of Bugibba for a socially distanced coffee with David, the man behind The Maltese Daddy blog. We wanted to know what inspired him to share his experience of fatherhood with the world, and also his thoughts on how the effects of Covid are changing the dynamic of the Maltese family.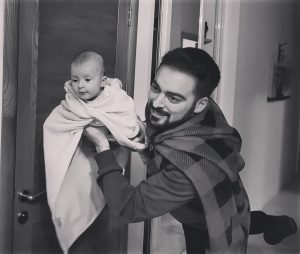 What was it that motivated you to write about fatherhood initially?
I have two young daughters, and as I began to look into information for parents, I noticed a lot of the stuff I was seeing online was about how to be perfect, which I didn't find particularly practical. I wanted something that was a bit more about the real side of fatherhood, so when I discovered it didn't really exist, I wanted to fill the gap.
I have a full time job, so it wasn't about generating an income or anything, I really just wanted to help fathers based on the struggles I had experienced when trying to find useful, local information for new dads.
As you adjusted to parenthood, what kind of father did you blossom into?
I'm a very determined person by nature, so when it came to parental tasks, I didn't see them as a chore, I saw them as a challenge! Consequently, when my first baby was born, I was really focused on learning how to do everything.
When I was growing up, my parents were generally always 50/50 when it came to household and family responsibilities. My father did everything my mother did, and they were always swapping roles. So, it was natural for me to want to play a part when my own family came along.
If I had grown up seeing my dad on the couch drinking beer, then I'm sure I would have been influenced by that. That's why I always encourage mothers to kick their partners up the ass and get them to participate. In fact, that's another reason I started my blog; 95% of my readers are women, and these mothers use the information I give them to empower their partners to be more hands-on.
A lot of the time it's not about laziness on the father's part, it's about confidence. I believe that if there is more information out there specifically for dads, then they will feel confident enough to participate more.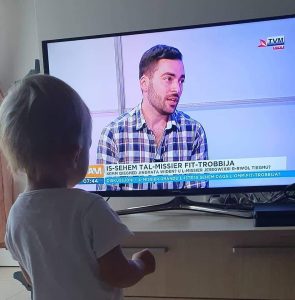 Do you ever get a hard time from people who think that blogging is for girls and, as a man, you should be out killing bears with your fists?
Yes, there was some scepticism when first I started the blog. Us Maltese are notoriously private, so people would say things like "Why are you sharing your life with the whole world?" or guys would say "Why are you blogging about parenting? You should blog about football!"
But I just feel that throughout history, positive change often starts from someone doing something "out of the ordinary". For me, I've always wanted to help people, it's a strong trait in my family, so add that to having a supportive wife who could see my vision, I felt that I could use my voice positively. Fatherhood is something I had experienced, so I thought I could be of some help.
In saying that, it is an absolute minority who give me hassle – 98% are positive, it's only 2% who have these weird, unresolved issues that make them so angry!
As a result of Covid measures, more fathers are working from home now. How has this affected the family dynamic?
For dads in my situation it has changed it a lot. My youngest was born in August, during the pandemic, so I was working from home with a pregnant, hormonal wife and a young daughter in the house! So, it's safe to say that I learned how to multi-task very quickly, something that wasn't one of my strengths before the pandemic.
There have been some challenges – for example being in a Zoom meeting and my daughter comes running in saying "Daddy, daddy, pee-pee! Pee-peeeeeee!". But on the plus side I've spent so much more time with her.
I've also learned to be more resourceful when it comes to entertaining my daughters. It's amazing how much fun kids can have with simple things like a pan and a wooden spoon for a drum, or dry pasta in a container for a rattle. It's a great way to spend some quality, creative time with your kid without spending a fortune.
In a more philosophical sense, I don't take life for granted so much anymore. I'm much more aware of the importance of good health, and I want to make sure that I can protect my family as best as I can. I think more about others now than I do about myself. Covid has been a bit of a reset button for me in that way.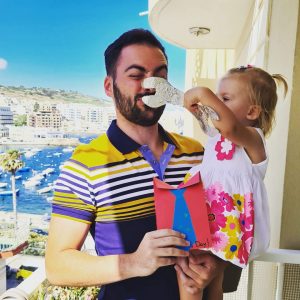 Do you think this new normal will impact the "traditional" role of the father in Malta going forward?
I think that role was already changing, even before the pandemic. In Malta, until relatively recently, there was a tendency for the mother to stay at home and the father to go out to work. But, as the cost of living has risen and employment opportunities have increased, more mothers are now working.
I would rarely have seen a dad with a carrier or pushing a pram before – perhaps Covid has sped this up, but I believe that, in part, due to the influence of expats and the types of industries that have recently thrived here, Maltese men are becoming much more progressive parents.
Saying that, the progression of parenting in Malta is not really an issue of gender, it seems to be more a case of letting go of some of the redundant parenting techniques of the past. It's more of a generational thing.
For example, once I was out at The Point and I had my baby in the carrier while my wife was in one of the shops. The baby started crying, so I began singing and doing all the tricks to calm her down. Suddenly an older woman appeared and said, "Don't you think it's better you give her to her mother?"
I responded like "Do you think I'm not capable of calming her myself?"
It's this way of thinking that puts men off. They are made to feel that only mothers have this magical power, then it causes them to panic when the baby cries. So, I think if we rely less on the guidance of out-dated advice and ancient prejudices and more on our instinct and the research-backed guidance of today, that's when real progress happens.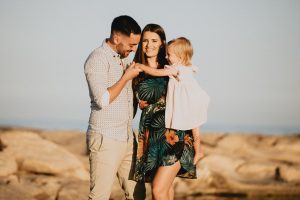 What advice would you give to new dads, or dads that are now working from home and find themselves a bit overwhelmed?
I would say first, and most importantly, never take work home. Even if your work is strenuous or you have a 24/7 job, at least mute the notifications on your phone so you aren't constantly distracted when you are with your family.
Secondly, whenever you have some time, whether it's driving home or chilling out in the toilet, don't waste it! For example, in the car on my commute home, I make sure to put on my favourite music, crank up the volume and sing my heart out. I find this destresses me a bit so that by the time I get home, I'm in a good mood.
If you work from home, create a tag team with your partner so that time is shared. I take my daughter to daycare in the morning, then my wife picks her up in the afternoon. When I'm finished for the day, we switch rooms and then I takeover playing with the kids.
The small amount of time that I have throughout the day, I always try to use by participating in the family routine. Whether it be bath time or putting them to bed. I have this thing where I always like to be the last person they see before the go to sleep, it's important to me. Then in the evening, it's my time, so I watch a bit of TV or something, and twice a week I go to train and destress.
When it comes to advice specifically for fathers with daughters, always remember that a girl will become a better woman when she has a good relationship with her father, because we are her first love. If my daughters see me as a good caregiver and a good husband to their mum, then there is a better chance that they will look for those same characteristics in a partner. So, I put the effort in, make sure I'm there for them while they are young, because they grow up so fast.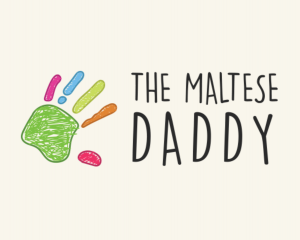 Big thanks to David for venturing out in the rain to meet up with us and share his journey. Check out The Maltese Daddy for more valuable insights into fatherhood on our little island.
Get to know more local heroes who know exactly what it's like to be a parent in Malta in our Island Parents section.