A towel that made bath time easy, and fast became a favourite baby-gadget for the Island Bébé team.
This week our we're loving the hands-free apron towel by Cuddledry, available from My Favourite Things. They have shops in Naxxar and Swieqi, or you can order from their online store.
Make Octopus Wrestling Easier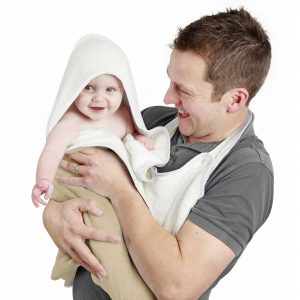 Whilst I was pregnant, lots of friends suggested gadgets that would help solve all sorts of parenting challenges. Most were left in drawers unused, but there were a few that really made life easier for me, and the Cuddledry apron towel was one of them.
Before I had my little munchkin, when it came to bath time, I imagined pouring water over my tiny baby as he gazed up at me. Having some relaxing bonding time between parent and child before I gathered him up in his fluffy towel ready for bed.
Yeah, turns out it's not like that. At all. It's more like trying to wrestle an angry octopus that has been smothered in baby oil.
In the early days, my baby really didn't like baths. He cried and wriggled throughout the whole process. Given that they are wet, picking up and carrying a newborn post-bath is quite a task – and that's the case whether you're on your own during bath time or you have someone to help.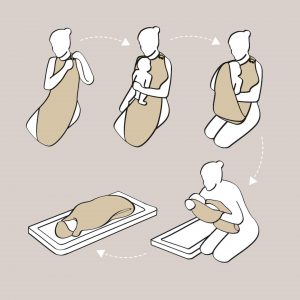 Enter the Cuddledry hands-free towel. Pre-bath, I attach this towel to me like an apron, get the baby into the bath, give him a good wash, and once we're done I pick him straight up and onto my chest before bundling him up in the lovely soft material.
The towel is made from bamboo and cotton and is almost as big as an adult-sized towel, so you've got lots of material to work with for even the wriggliest of wrigglers. I'd be lying if I said I haven't been tempted to use it myself.
The Cuddledry is a bath-time essential in our household and there are so many reasons why it's our Product of the Week. It makes everything feel safer when I'm doing bath time alone, it's soft and cosy, and it's great for sneaking in a quick cuddle post bath without getting soaked.
If you're struggling with your little octopus at bath time, give it a try!
The Cuddledry hands-free apron is available to purchase from My Favourite Things in Swieqi and Naxxar, or you can order from their online store.
Our Promise To You
At Island Bébé, your trust is of utmost importance to us. That's why we only endorse quality products that we would use ourselves. Thank you for supporting our partners so that we can keep bringing you the best local content for you and your little bébés.