This week, a sleek baby wrap from Swedish company, Najell, has won our hearts. And they deliver to Malta, FOR FREE!
As a mother of a 12-week-old baby, one of the things I hadn't prepared for was how little time you have with your hands free. Almost all moments of my day required carrying this little baby around – and I mean really a lot of moments.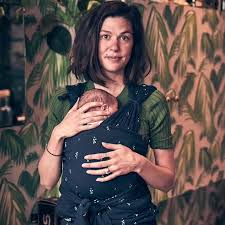 In an attempt to feel like a functioning human, as opposed to a mode of transport, I needed to reclaim my hands! I already had a baby carrier, the Ergo Baby, however my newborn was too small to use this carrier for the first few weeks. The wraps that you see all over social media didn't quite suit me either, watching the how-to videos of how to tie your baby to your body without them falling out looked complicated, and trying to learn a new skill was the last thing I needed!
But then, during one of my baby shopping browsing wormholes, I discovered Najell, an online Swedish brand who focus on making "innovative products for urban parents". The Najell wrap looked perfect. It's a pre-tied wrap that you would put on like a t-shirt – so no engineering degree required. Put it on, pop your baby in, and off you go.
I ordered it and it arrived within a few days. I could see that it was made of good quality, cosy cotton that would be easy to clean. Plus it's super convenient, taking up very little of that precious real estate in my baby bag. It's easy to breastfeed in, and it's suitable up to 9kgs so you can get some decent use out of it. The Najell wrap is also recommended by the International Hip Dysplasia Institute as a hip-healthy option for baby, which was important for me.
How it changed my day-to-day:
The Witching Hour – when I'd ticked all the boxes, but still couldn't get baby to settle, I'd snuggle him into the wrap and he'd be out for the count.
Home Tasks – because he is so secure and close to me, I can do almost anything, including emptying the dishwasher. He never feels like he's going to fall out.
Work and Emails – I am operating with two hands again. Watch me type!
Bonding – He's so close to me that to him, it's as if I am carrying him. It's worth noting that, for me, this closeness didn't affect his night-time routine, he still slept solidly in his own cot.
The Najell baby wrap best bits:

Pre-tied wrap – easy to put on like a t-shirt.
Skin to skin – The wrap has fabric that covers the whole back so you can carry skin to skin without showing a naked back.
Easy to breastfeed in.
Can be used from newborn up to 9 kg.
Soft fabrics for you and your baby.
Oeko-Tex Standard 100 Class 1 fabrics that are safe for your baby.
Recommended by the International Hip Dysplasia Institute.
Washable at 40 degrees.
Although with a 12-week-old, I'm very much considered a new parent, I still find myself referring to the "early days". If you're just starting out and are undecided about wraps or you're finding that your carrier is a bit too bulky for your newborn, we recommend the Najell wrap for some hands-free heaven!
For more great brands and useful products, head to our Island Products section.
Our Promise To You
At Island Bébé, your trust is of utmost importance to us. That's why we only endorse quality products that we would use ourselves. Thank you for supporting our partners so that we can keep bringing you the best local content for you and your little bébés.