There's plenty going on in Malta this Christmas but nothing beats a cosy afternoon at home sipping hot chocolate and watching Christmas movies. One of my most cherished Christmas memories is whenever dad would wheel our tv to the fancy 'salott' with the fireplace and my siblings and I would sprawl on the rug, eat cookies, play with our toys and watch Home Alone on repeat. That video lived in the VCR from December 21st until January 7th when we returned to school.
Things have changed quite a bit since then (including a larger selection of what to watch over the holidays), but the feeling of warmth and love certainly hasn't. To save you research time (and endless scrolling through Netflix), we've compiled a list of adorable family Christmas movies to accompany you this season.
Christmas cartoons for babies and toddlers
A Trash Truck Christmas
For Trash Truck fans, this short special is an adorable tale of rescuing Christmas after Santa crash-lands in a junkyard, right on Christmas Eve.
Mighty Express Mighty Christmas
There will be no presents without Mighty Express' brave trek! The Mighty Express speeds into a snowstorm to deliver Santa's presents and save Christmas for all the kids in Tracksville.
Super Monsters Save Christmas
Santa's Reindeers have gone missing and the Super Monsters join forces to deck the halls, find the missing reindeers, and save Christmas.
A StoryBots Christmas
Bo – just like most of us – has doubts over her gift-giving skills, so heads north to study under the master himself, Santa Claus, only to find he's not there!
Chico Bon Bon and the Very Berry Holiday
A very Berry take on Christmas as the Fix-It Force makes a plan to deliver Blunderberry Cakes to every home to avoid everyone waking up to a holiday disaster.
Robin Robin
A sweet tale about a Robin raised by a family of mice, looking to find where she came from.
Animated Films and Movies
Arthur Christmas
An adventure movie based on the relationship between father and son, and all expectations related to that. Arthur Christmas has an ultra-important mission to carry out – entrusted by none other than Santa Claus himself. 
Klaus
Still reeling from a family tragedy, a reclusive toy maker forms an unlikely friendship with a selfish postman, delivering joy to a cold, dark town that desperately needs it.
Angela's Christmas
A heartfelt tale set in poverty-stricken Ireland as a young, determined girl called Angela goes to far ends to see her family reunited for the holidays.
Shrek the Halls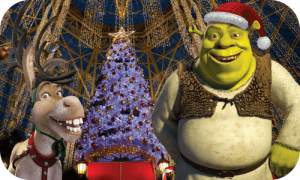 Shrek needs no introduction to our generation, and this Christmas special is a fun way to also introduce little ones to this big green world. Just when Shrek thought he could finally relax, the most joyous of all holidays arrives. 
Alien Xmas
Talk about a christmas gift gone wrong! A young elf mistakes a tiny alien for a Christmas gift, not knowing her new toy has plans to destroy the Earth and steal all the presents.
Spirit Riding Free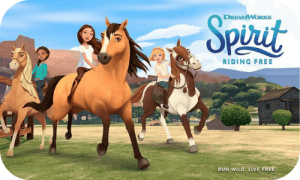 Each and every episode of Spirit is beautiful, and their Christmas special isn't anything less. Lucky and her friends must figure out how to get home in time for Christmas when a falling boulder and a serious snowstorm derail their travel plans.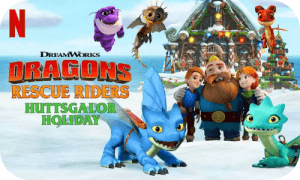 Dragons Rescue Riders Huttsgalor Holiday
For all those little dragon fans, Huttsgalor Holiday is a fun watch. The first snowfall markes the start of Odinyule, the Viking holiday of giving, but crazy weather might cancel everything unless the Rescue Riders don't swipe in.
Captain Underpants Mega Blissmas
Christmas gets seriously weird after George and Harold go back in time to change up a few of their beloved holiday traditions.
Trolls Holiday
An adorable, feel-good musical, perfect for the entire family to watch. When Queen Poppy realizes that Bridget and the Bergens don't have any holidays, she hatches a plan for Branch and the Snack Pack to help create one.
Family Christmas Movies and Series Specials
The Christmas Chronicles 1 and 2
Sad and lost over the loss of their dad, a brother and sister find new purpose as they set to save Christmas after accidentally crashing Santa's sleigh. If you have time, why not binge watch both films in the series? In the second installment, now-teenage Kate runs away and lands at the North Pole, where a naughty elf is plotting to cancel Christmas.
Nativity 1 and 2
In Nativity 1, Paul is in charge of directing his school's nativity plan and falsely boasts that his ex-girlfriend plans to turn the production into a film. In the second movie, the students go on a road trip with the plan of entering a Christmas song competition.
The Claus Family 1 and 2
In this sweet, Dutch movie, when holiday-hating Jules' grandfather suddenly falls ill, he learns of his family's magical legacy and realizes he's the only hope to save Christmas. In the sequel, as Jules takes the reins from his Grandpa Noel, he receives a young girl's letter with a special holiday wish.
Christmas Break In
Think Home Alone, but set at a school. Stranded at school before holiday break, a girl gets into the spirit of saving when a trio of robbers trespass and hold the janitor hostage.
Jingle Jangle
In this marvellous musical, a once-joyful toymaker finds new hope when his kind and curious granddaughter comes into his life.
48 Christmas Wishes
Christmas is in trouble as a small town's letter to Santa accidentally go up in smoke. In come two elves to the rescue as they venture out of the North Pole to retrieve every missing wish.
A Cinderella Story
In this romantic comedy, an aspiring singer works as an elf at a Christmas tree lot and finds her own Christmas miracle, despite her cruel stepmother and mean stepsisters always ruining everything.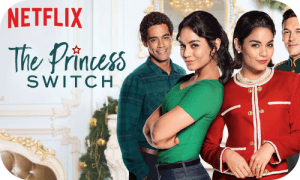 The Princess Switch 1, 2 and 3
Best for slightly older children, The Princess Switch trilogy (so far) features a down-to-earth Chicago baker with not one, but two doppelgangers, one of whom just happens to be a princess. 
A Christmas Prince 1, 2 and 3
Again, ideal for older children – Christmas comes early for an aspiring young journalist when she's sent abroad to get the scoop on a dashing prince who's poised to be king. Let's just say, you get a clear picture of where the story is headed from the two sequels: The Royal Wedding and The Royal Baby
Prince of Peoria A Christmas Moose Miracle
In this 29-minute special based on the Prince of Peoria Series, Teddy is concerned about missing the Festival of Lights after the bowling alley is snowed in. Emil insists the Christmas moose will save the day. Will it?
A Family Reunion Christmas
Perfect to watch with your older kids, in this Christmas special, M'Dear and her sisters struggle to keep their singing act together before a church Christmas pageant while Grandpa teaches the kids a valuable lesson.
David and the Elves
In this recent addition to Netflix's Christmas library, a jaded, overworked elf runs off to the real world where he tries to experience the magic of Christmas with the help of a newly befriended young boy.