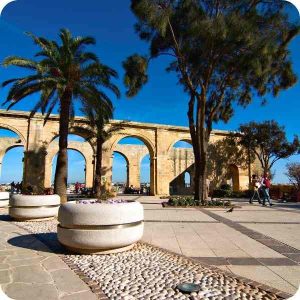 Think Valletta is just for adults? Think again!
Sure, Malta's capital city is packed with great architecture, museums and interests for adults – but it also has so much to offer to parents with toddlers and young children. Not to mention the countless eateries and cafes that are perfect for a quick snack or a lunch break.
Here's our recommended list of things to do with kids in Valletta.
The Mall Gardens
Just outside Valletta's city gate, you'll find an area with a fountain and plenty of space to run around. Look our for the friendly cats as you wander through the gardens. Benches are available all over for a quick break.
The Upper Barrakka Gardens
Arguably one of the most beautiful gardens on the island. Kids love running around the Upper Barrakka Gardens and exploring the area. Keep them busy trying to find all the different types of flowers. Then, grab a drink from the cafeteria, take a seat and enjoy the magnificent harbour view.
Watch the Saluting Battery
If you're in Valletta at around noon time, the Saluting Battery is a must! Take your little ones there to watch the daily cannon fire from the Upper Barrakka Gardens. This event takes place thanks to Fondazzjoni Wirt Artna.
Hastings Gardens
Hasting Gardens is another green and shady spot within Valletta that's great for kids. These gardens offer a wonderful view across the Marsamxxett and Sliema harbours. Keep a lookout for more four-legged friends. There is also a cafeteria within these gardens, which makes the visit even more pleasant.
The Triton Fountain
This is hard to miss! As you're making your way towards Valletta city gate, the Triton fountain stands as a masterpiece. Kids love running around it and getting sprayed by water – plus, it's the perfect photo opportunity.
The steps next to Parliament
Toddlers love to move around. We've discovered simply going up and down the stairs and counting the steps can be a fun way to spend a half hour!
Stroll around the streets of Valletta
The streets in Valletta are stroller friendly and they make for a pleasant walk since many are pedestrianised. Visit the colourful St. Lucia street and make your way towards St. George's square for some more fountain fun!
The Free VR Experience
The VR experience near the Triton fountain is an activity for older kids and parents too. This lovely experience is set up by Visit Malta.
---
Video
Looking for more ideas where to take your kids? Visit the do list and start planning the next activities with your little ones.