The Easter Bunny Tag You're Looking For!
Have you got your kids' Easter Basket sorted out? Are you looking for a way to personalise it further? We have a bonus addition for you this Easter. Here's a quick and easy DIY Easter Bunny Tag.  Get your printable here and add this tag to your kids' Easter basket. This will make the Easter basket more personal and sweet. Your kids will surely love it!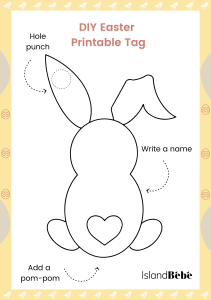 What you will need:
Glue
Scissors
Pompom
Cardboard paper
A piece of string or ribbon
Here are the 5 easy steps to follow:
Print the bunny gift tag template and stick it to some cardboard paper.
Glue a pom-pom to the bottom of the bunny printable.
Cut around the bunny shape.
Hole punch the ear and insert a ribbon or string.
Add a name to the gift tag to personalise it.
We hope you enjoy making this quick and easy DIY Easter bunny tag. We're positive that the Easter basket will look more complete with it!
Looking for more Easter Basket ideas for babies, toddlers and kids? Check out our article here. We've sectioned it out so you will find the perfect gifts for your little ones. Happy Easter!