With temperatures on the rise, a lot of us parents are frantically searching around for activities to keep the kids entertained and out of the sun. Esplora is the ultimate indoor entertainment for families, with exhibits and activities for children of all ages (even for grown ups). To help you try before you buy, I headed to Esplora with my two-year-old to find out what was on offer for families. Here is Island Bébé's independent guide to the epic science centre located in historical Kalkara.

We visited Esplora on a Friday afternoon, and it was pretty easy to find parking nearby which is always a good start! We were greeted by Jason, a friendly and knowledgeable Explainer who would be walking me through the displays. Jason has been working at the centre since 2017 and has picked up a lot of knowledge on the way, I couldn't help thinking how handy he'd be to have on your pub quiz team.
The Halls
The entrance is spacious and nice and cool with a small gift shop and a bubble tube display that my toddler was fixated with. The centre itself is divided up into different halls and sections, all with their own themes.

We started in the Motion Hall, which teaches you all about energy and movement through a series of exciting hands-on exhibits, from flying rockets to submarine pressure demonstrations. Then there's the Light Room, followed by the Electricity Room where the kids can learn how circuits work and just how much energy it takes to light a bulb (spoiler: it's A LOT).

We moved through to another large hall which contains sections on the human body, food and the Eco-Life and Earth sections. The Eco-Life section was fascinating, with the exhibits showing how we affect the environment and how we can be more mindful when it comes to preserving our planet. The Earth section was one of my favourites with a real fog tornado you can touch and an exhibit teaching families how to build earthquake-proof buildings just two of the many unique interactive features you'll find here.
Toddler Fun
If you're a two-year-old, then downstairs is where the party's at. This floor is toddler-friendly and contains an indoor slide, lots of things to climb on, and a series of pipes and tubes on the walls where you can place balls in a vacuum and watch them travel around the room. There is also a Multisensory Room opening on this floor sometime this year that will cater for children with various learning difficulties.

Across the hall, round the corner from the giant dinosaur and rhino, you'll find the Family Room. This is a quiet space for anyone who may need it, from breastfeeding mothers to babies who need some chill time. There is a bottle warmer in this room too, which is handy.
Outdoors
Outside offers yet more fun for the family including a series of rabbit holes that the kids can slide into, kind of like a Tellytubby house, then they can pop their little heads up through the clear domes. There's also a pirate ship and an adventure section with play equipment to enjoy.
The views from Esplora are spectacular, in fact they were preparing for a wedding reception when I was there, and it's easy to see why. With beautiful vistas of Valletta and the three cities, it's a real feast for the eyes.
The Shows
I went to two of the shows while I was here. Two-year-olds are a bit young for these so I went on my own, leaving my husband to deal with flying balls, endless snack requests and mysterious wet patches.
The Body Wonders show was first up. It was hosted by the talented Talitha, who instantly made me feel comfortable and welcome, and the kids loved the lively and fun presenting style. Talitha's enthusiasm was contagious, and that's coming from someone who doesn't get enthusiastic about anything…unless it's a nap.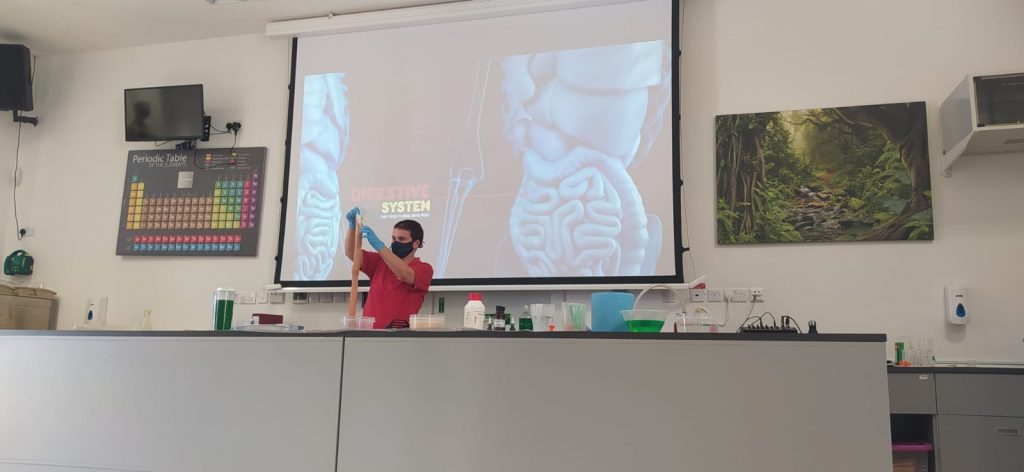 I learned a lot during that show. For example, did you know that you have a dominant eye? Because I didn't. It's my right one apparently, and the simple experiment we did to find that out blew my mind. Talitha's show contained all the things kids love, chemical reactions, elephant toothpaste, and poop. And we all know how much kids love poop talk.
The second show I went to, To Space and Back, was shown in the Planetarium, that futuristic dome you can see from Valletta. Once inside, you recline your seat right back so it's almost horizontal and you're facing the ceiling, then they turn the lights out and start the film. As the mother of a toddler, lying me down anywhere and turning the lights off is a risky manoeuvre. I haven't slept in two years for the love of God.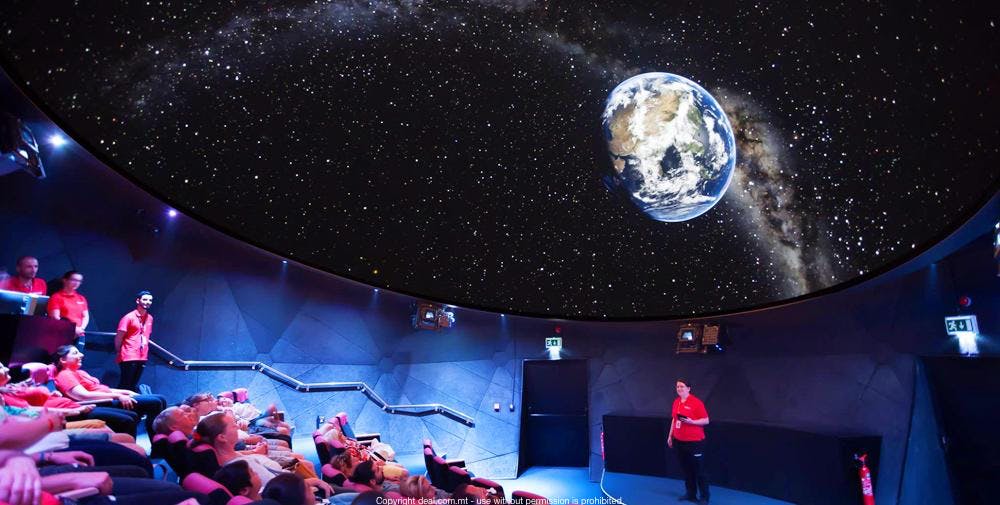 Luckily the film was engaging enough to keep me awake. Although it's not VR, the dome effect does make you feel a little like you're in the film, so you do feel a bit "wheeee" when there are fast-moving parts. Enough to add a touch of fun, but not too much to make you feel dizzy.
Again I learned a lot watching this film. For example, when you search on Google Maps for a good café, your phone is communicating with three different satellites at once in order to retrieve the GPS info. Made me feel like a space wizard.
The History
Walking back to the main building, Jason told me about the lift that you can see coming up to Esplora from the sea. The science centre was an old marine hospital in wartime and this lift was used to transport injured soldiers up from the boats. Inside the building next to the lift is a room with exhibits about the backstory of the building, so something for you history buffs to enjoy.

Sadly, it was time for us to go, and I didn't even have a chance to visit the onsite café! In fact, this place is so big that I'm planning on returning at the first opportunity to check out all the stuff I didn't have time to see. There is a whole space section in the planetarium that looked awesome. You could easily spend an entire afternoon here, there is so much to do.
So, if the sun is making trips to the park a bit tough, or if you just want to treat yourself to a family day out, I highly recommend paying Esplora a visit. Although the majority of exhibits are suited to older kids, there were more than enough things there to keep my toddler entertained. The place is clean, modern, interactive, and with all the education disguised as fun, it's the perfect way to get the kids learning!
Thanks to Jason and Esplora for being great hosts! For more information about prices, events, and more, you can visit their website here. Already ticked it off the list recently? Get more family fun inspiration in our popular Activities Section.