This recipe has been brought to you in collaboration with Sarah Bajada. Sarah Bajada, mum of 2 year old Sam, fitness enthusiast, PT & founder of Sky Spirit fitness lounge, and now the host of the voice kids.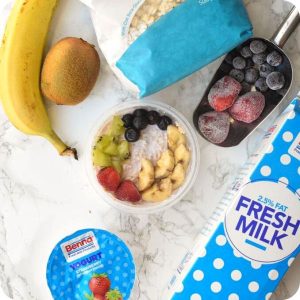 It's hard to think of breakfast, lunch and dinner ideas for kids daily (unless you have it all prepared in advance). But, if you're like us and need to come up with new ideas from time to time, we've got your back! Also, during school days, getting up everyone, dressed and fed to make it out on time might be tricky. So make it simpler for yourself and make sure that everyone starts their morning on a healthy note. Rather than choosing a breakfast/snack option that is ready and full of preservatives, we have the perfect nutritious recipe for you which is also super easy to make. So, if you're looking to prepare a nutritious lunch box snack for your family, here's a quick and easy, overnight oat recipe idea for kids starting from toddlers.
Lunch box snack – Overnight oat recipe
Ingredients:
3/4 cup milk
1/2 cup oat flakes
1 small yoghurt of your choice
Fruit of your choice or add the following: 1 banana, 1 kiwi, some frozen blueberries, and strawberries
Method:
Place oats, milk, and yoghurt of your choice in an airtight container (or a glass jar).
Stir or shake gently to combine all ingredients.
Refrigerate for 6-8 hours.
Top with your favourite fruit. You can also add nuts and seeds of your choice.
Serve and enjoy. Kids will definitely love it!
Did you know?
Oats are packed with fibre. As a result, you and your kids will be able to stay fuller for much longer.
This is a very easy recipe to personalise for your child, as you can add any flavours they like. So feel free to add anything from crushed biscuits, chocolate chips, to nuts and other seeds or encourage your kids to choose their toppings. Like, that you will also get them involved. You can prepare this in just 5 minutes. This will make your life a tad easier. For those who have more of a sweet tooth, but would like to remain on the healthy side, you can add a splash of honey or stevia. Refrigerate, sleep and 6-8 hours later wake up to enjoy this delicious recipe!
Check out our island foodie section for more recipe ideas for kids.