This article contains products we love from Brown's Pharmacy. 
Malta is surrounded by sea, and so there are various beaches that are perfect to explore with kids. Some are sandy whilst others are rocky. You are simply spoilt for choice here! Yet, we all know how kids love to play, get messy and have fun in the sand, and then splash into the water to cool down from the boiling heat.
We know that it's going to be hot out there and protecting yourself and your little ones should be of top priority. So, before going to the beach, make sure you add the following to your beach bag.
Sun protection cream 50+ SPF – Our go to is Pharamceris 50+SPF sun cream, available at Brown's Pharmacy.
After sun cream – We love the soothing Lirene SOS after sun cream. You can purchase it at Brown's Pharmacy.
Baby moisturiser and lotion  – We recommend Sanosan Baby Care Lotion. You can find it at Brown's Pharmacy.

Here's a list of our top 5 Malta beaches that are great to enjoy with your kids.
Ġnejna Bay
Ġnejna Bay must be one of the most beautiful picturesque bays in Malta. This bay is a great option to visit with your kids, as it offers a big parking space which is just across it. Therefore, you can put your mind at ease that a trip to Ġnejna Bay with your kids and all of their beach toys will be a pleasant and hassle free one. Apart from the sandy beach, Ġnejna Bay also offers a small rocky part. You will also find a kiosk there, where you can by a delicious and most awaited ice-cream in the hot summer days.
Location
Mġarr Malta
Pack
Beach toys – loads of them, the kids will love you for it.
Must do/see 
You can take a little hike on top of Ġnejna Bay and enjoy the beautiful views from there.
Grab a ftira from the kiosk and enjoy the sunset on the sand.
Safety
Ġnejna Bay is pretty safe, however, it's surrounded by boat houses. So, keep a look out for any boats taking off the bay.
Balluta Bay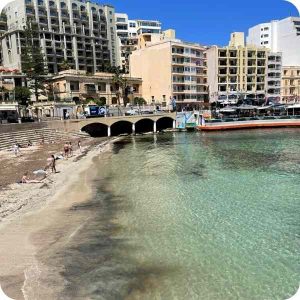 Balluta sandy bay is another beach you should put on your list. This is a small bay and can become packed quite easily. We recommend heading there for an early swim or a late one. There isn't a dedicated parking so you should look for street parking. We suggest you to pack lightly if you opt to go to Balluta bay with your kids. The perks of swimming here is that kids will love the sand, and you are surrounded by many cafes and restaurants which you could stop at later.
Location
Balluta, Sliema area
Pack
Pack lightly in case you have to walk a bit to get there. We suggest a pair of swim sandals for the kids too.
Must do/see 
There's a little kiosk just across the bay where you can enjoy a snack and your little ones can run around in this square, and perhaps get to spot the local cats and chickens there!
Safety
This bay is  just a few steps down from a very busy street. We also recommend keeping an eye out on the little ones.
Għadira Bay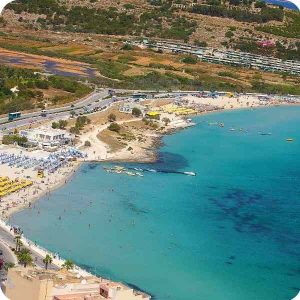 The largest sandy beach on the island – and the most shallow! Kids absolutely love it here because they can reach the sandy bottom even when quite far out. If you prefer staying away from the sand, this beach also offers a concrete area. So, you get to have the best of both worlds! Next to the beach there is a very renowned café/restaurant which is worth a visit. Parking is usually easy around here as you can park in the street by the beach.
Location
Mellieħa
Pack
Bucket, spade and everything else for some sand fun! Kids would enjoy an inflatable float too!
Must do/see 
Enjoy the beautiful island's sunset with your kids before leaving to go back home.
Grab an ice-cream from the kiosk and cool down from the heat.
Safety
Għadira Bay can become packed very quickly, so keep an eye out on your kids and your belongings here!
St. Thomas Bay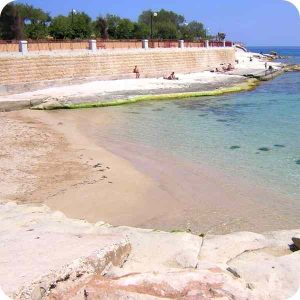 A lovely small sandy beach in the south of Malta. This bay also has a rocky and concrete area too. Families love this beach and it is pretty safe. There are also gardens, cafes and restaurants close by. Since it's a small beach, it can become crowded very quickly.
Location
Marsascala
Pack
Swim sandals, bucket and spade for some fun.
Must do/see 
Get the cliffs trail for some incredible views.
This bay is very close to the main town, so you can enjoy a lunch in one of the restaurants there.
Safety
St. Thomas Bay also offers a small sandy inlet where children can swim safely.
Little Armier Bay
Little Armier is a beautiful, quiet, family friendly sandy beach in the North of Malta. The perks of swimming at this beach is that it offers crystal clear waters. There is plenty of room where you can park. You will also get to see various caravans parked close to the beach. There is also a café/restaurant close by.
Location
Mellieħa
Pack
Beach bucket and spade to build sand castles.
Must do/see 
Enjoy the views of Malta's sister islands; Gozo and Comino.
Take a stroll around the countryside surrounding Armier Bay.
Safety
Little Armier bay is generally safe unless it is exposed to strong North winds. So, choose wisely when to go there.
To help you out even further in choosing the best beach to go to with your kids, check out the forecast for each beach here. Enjoy!
Let us know what you think of these bays on Facebook or Instagram once you visit, and if you're looking for inspiration for more family-friendly activities across Malta and Gozo, check out our Do list on site.