At Island Bébé, we don't just test prams, we take them on full-blown adventures – risking life and limb to make sure you have all the information you need before committing to such an important purchase.
As you can see from our video, Malta has its fair share of obstacles when negotiating your journey through the streets with your little warrior, but that doesn't scare us. In our first ever pram adventure, we're putting the Babyzen Yoyo+ to the test, walking from Kappara to eeetwell in San Gwann for a well-deserved snacky snack.
Ready? Let's go!
LEVEL 1 – The Gandalf

There you are, strolling along minding your own business when all of a sudden a lamppost just appears right in the middle of the pavement leaving you no room to pass. Do you go renegade into the dense wilderness, or risk walking with the pram on a road full of maniac drivers?
At an incredible 44cm wide, the Yoyo is one of the narrowest prams on the market, which for Malta's little walkways and vanishing pavements is a massive plus.
We managed to squeeze past the post AND remain on the pavement. Your sorcery is no match for the Babyzen Yoyo yet. Onward!
LEVEL 2 – The Off Roader
Sudden changes in terrain are commonplace on these mean streets. Here, a smooth path descends into an unchartered chaos of dangerous jungle.
We grabbed our trusty Yoyo+ and faced the challenge head-on, and, well, it wasn't great tbh. Luckily, the Yoyo was narrow enough to go around the rough patch on this occasion but trying to go through it was a bit of a challenge.
Having a slimmer, smaller set of wheels is what allows the Babyzen Yoyo+ to manoeuvre so nimbly, but the downside to that is its lack of oomph when faced with harsh ground. It suddenly felt a bit fragile and made me do worried faces.
LEVEL 3 – The Wrist Breaker
Some driveways begin their descent after the pavement ends, but some driveways don't care about pavements, instead beginning their descent from the road. This can cause some problems for us pram-pushers. Namely almost breaking our wrists every time we try to go for a gentle walk.
This one was particularly exciting because it was preceded by a broken pipe AND a step. It's literally easier to get to Mordor. Anyway, my beautiful boy is not the lightest, his cheeks alone weigh about 10kgs each, so trying to fight gravity and stop him rolling down someone's driveway is no mean feat.
The Yoyo+ is light, coming in at only 6kgs. You really won't get a lighter pram with as much functionality. This means that any extra weight is kept to an absolute minimum. So, although you'll still have your work cut out to keep everything horizontal, you know that you're doing the least damage to your joints as possible.
LEVEL 4 – The WT Actual F
Okay, so perhaps I'm misunderstanding the concept of pavements. Maybe pavements are actually private property, and if someone chooses not to turn them into an assault course or BUILD AN ENTIRE SET OF STAIRS on them, I should be grateful.
With closely parked cars and a lot of fast-moving traffic, we physically couldn't get onto the road so we just had to go for it. Unbelievably, with a few false starts, we did manage to scrape past whilst remaining on the pavement. The Babyzen Yoyo+ seems to defy physics in order to get through these tiny tight spots. It's really impressive, and I'm starting to feel like this adventure would be a disaster without it.
LEVEL 5 – The Gauntlet
Here we have a ramp that doesn't reach the pavement, set at an angle coming off an incline. If you can actually manage to get your pram onto this ramp, you will soon find that it becomes completely obstructed by a tree that's growing on it. Unfortunately the Yoyo+ can't fly, so I decided to avoid this dangerous mess altogether and continue on the pavement, taking the long way round.
Once I got myself to the top of the hill, the pavement just completely disappeared. Wonderful! This left me with two choices: go down a set of stairs, or walk onto the road. Again, this is a busy part of town so neither of these options seemed particularly attractive
In the end I had to go onto the road because the stairs were too difficult to get down, and since the Yoyo+ isn't the most robust, I didn't want to damage my baby or the pram by bumping them all the way down.
LEVEL 6 – The Bringer of Bad Luck
Some believe that walking under a ladder brings bad luck, but the only person who's going to suffer here is the asshole who put this ladder in the middle of the pavement. Again, this obstacle proved little match for the Yoyo+ and we whizzed through it no problem at all. I might be doomed to a life of bad luck, but whatever, I'm hungry.
Adventure Complete!
We arrived at our destination in San Gwann relatively unscathed, but slightly exhausted and a lot sweaty. With pram access and ground floor seating available at eeetwell, parking the pram at my table was no problem at all. Now, time for all the snacks!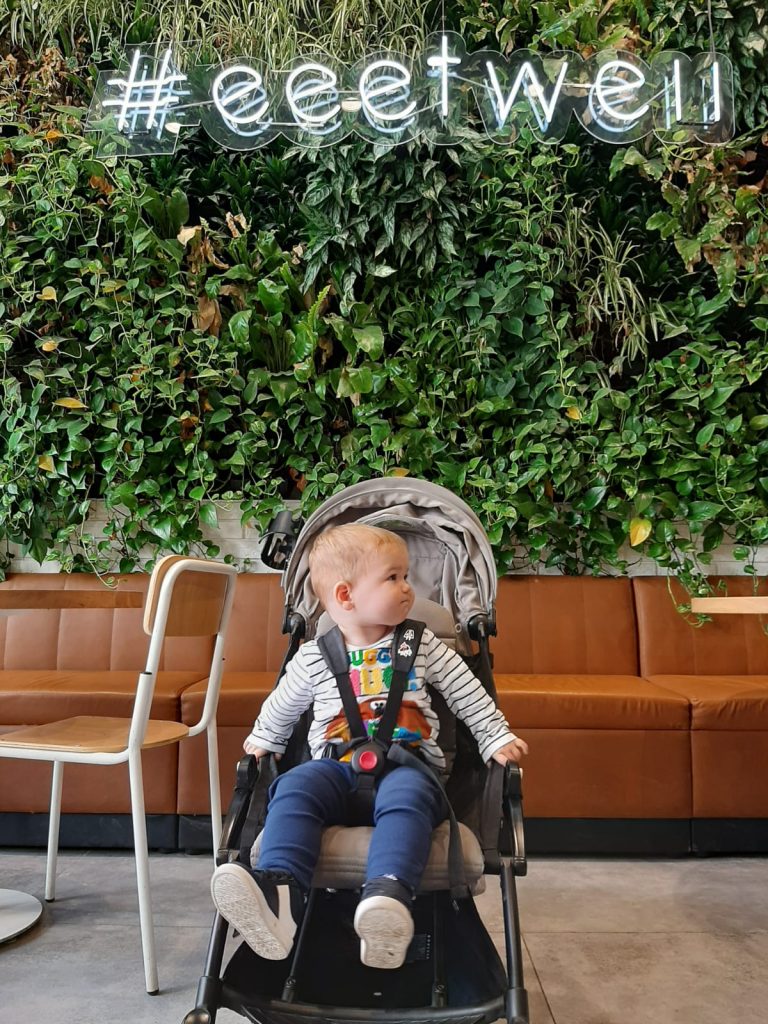 The Verdict
The Yoyo's pros far outweigh the cons, and although there might be better prams out there, this is about getting around in Malta, and for me, this one is hard to beat.
It's not often I encounter a tight spot I can't get out of with this pram. It's lightweight, and when folded it fits as hand luggage on a flight, so you won't have a problem getting into the boot of your car, no matter how small the space is. It even fits in the footwells!
I feel confident being out on my own with it, as it's not too heavy or complicated to use, and you can unfold it with one hand, which makes life a lot easier if you've got no one to help you.
The downside of the Yoyo is that it's not the most robust. But this is the price you pay for having something so agile. All those deeper little potholes on the pavement can stop the pram in its tracks, so it's good to be aware of what's coming when you're out and about.
The storage space below the seat is quite limited too, so if you are planning to use it for big supermarket shops, it would be worth investing in the larger bag attachment.
Otherwise, it's simple, nimble, easy to clean, and my little one just loves whizzing around in it.
If you're looking to adopt a Babyzen Yoyo+, head to My Favourite Things in Naxxar where the pram and all its accessories are available to buy in-store or online.