by Katia Camilleri of House Ten Eighteen
Creating a nursery room for your baby can get a little bit overwhelming, especially if it's for your first born. It's only natural that you want it to be perfect! Having a space for your newborn is important for both the baby and the parent. A nursery is not just the place where the baby gets to sleep, but can be a place where the parent feeds their baby, experiences some bonding time, and zones out from the rest of the house.
After my son turned 18 months, I realised that we needed to change some things up in the room to be fit to a toddler too. Based on my experience as a mother, I will be sharing my nursery decor ideas that can easily transition to a room fit for a toddler without making drastic changes.
1. Colour Schemes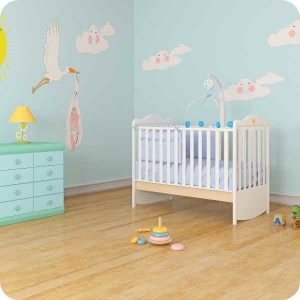 It is either pink or blue – but it does not always have to be the case. Don't get me wrong, if you love baby pink or blue, by all means go for it! However, I believe choosing a very versatile colour scheme is what can make an easy transition, yet obviously still make it playful. Apart from that, you do not have to incorporate colour by painting all walls, but you can paint a feature wall with just one colour, you can either paint half the wall to colour block, or you can also add wallpaper to add pattern.
Stick to colours that are not too bright. You want the room to feel calm, cosy and an enjoyable place for your child. For instance, you can still base your colour scheme on pink or blue, but it is the kind of blue or pink that matters. If you choose subtle tones, you can get more use out of the colour throughout the years. There are so many other colours that are fit for children: dark green, sage green, mustard, peach, rust, burnt orange, these colours also go very well together too if you want the room to be more colourful both for a girl or a boy.
Alternatively, you might opt for the gender-neutral look by choosing colours in tones of white, grey, or beige. Personally, I think this gives you way more freedom to inject touches of colour with décor items and furniture.  So, my advice is to think ahead and choose colours that might work for years to come.
2. Cot and Bed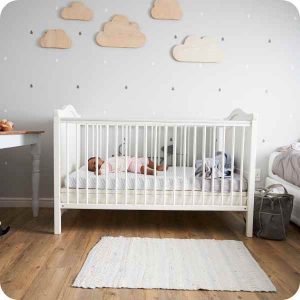 An essential piece of furniture to add to the room. The question is, when to shift from a cot to a bed? I don't think there is an exact answer for this because it all depends on the child. But the solution to this is that nowadays, cots can be converted to beds suitable for children up to 5 years of age. This will help you make more use out of the cot rather than having to buy another bed within a short period of time.
Another point to add is that newborns tend to sleep in cribs or next-to-me cots up until the age of 6 months, so this means that the cot is not really used within the first few months of the child either. But again, it all depends on what fits right for you and your baby, there is no right or wrong way!
When finding the perfect bed for your child, there are great nursery decor ideas to complete the look including adding the perfect bedding to fit with the room's theme, or adding more texture and layers with playful cushions and throws that contrast well with the colour scheme of the room.
3. Seating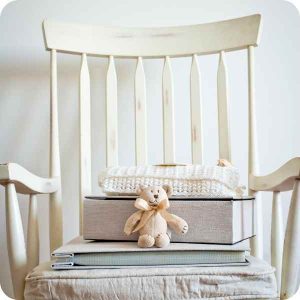 When looking for some information online, I found that there are different opinions of having a rocking chair or armchair in the room. Let's face it, such a thing will only be used for a little while. However, I do think that having a place to sit for the parent is essential. Starting from the newborn days, you do want a place other than your living room to feed your baby or put them to sleep. Also, when they grow to toddlers, getting them dressed becomes an absolute chore, so having a place to sit to be able to keep them in place would also be very helpful. I only find it easier to manage getting my son dressed when I sit down and put him on my lap – it is the only way! I also found that instead of having armchairs, if you have the space for it, a canape or day bed would really be useful and more comfortable for the parent to sit on. This might also be used for the child as a regular bed in the future.
4. Nappy Changer into Dresser
I found having a Nappy Changer in the room is essential for newborns. It not only is a place where you can comfortably change your baby, but it also helps the parent changing the child with better posture. In addition to this, I suggest you choose a nappy changer which can be removed or added to a dresser or chest of drawers. I think having a good-sized chest of drawers would be just enough furniture for a newborn since baby clothes are small, do not take much space, and grow out of their clothes very quickly. When the toddler grows out of the nappy changer, you can then consider in adding a wardrobe for your child, while the dresser can still be used as a storage space for clothes or toys. Therefore, in terms of nursery decor ideas, I recommend that a dresser with a nappy changer is an essential item to think of purchasing before the baby comes.
5. Play Mats to Carpet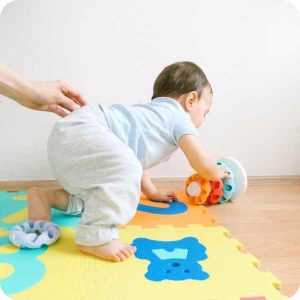 Sensory play is key to help babies discover the new world of all senses. Play mats become your day-to-day carpet, and although might not be that pleasing to the eye, they are a must have item to ensure your baby's safety during play. Nowadays, playmats are insulated too, so you do not have to worry about having your baby laying on the ground. It can be a place for the baby to play, do some tummy time, and eventually learn to crawl. I suggest finding a playmat that matches the colour scheme of the nursery room and that can easily be folded to be able to shift it from one room to another. You can also opt to get a black and white playmat since babies tend to interpret high contrast colours better.
Once your baby reaches the age of a toddler, the playmat might not be used as much since the child is at an age of exploring. Here you can opt shifting the playmat to a beautiful rug that fits your child's room.
6. Wall Décor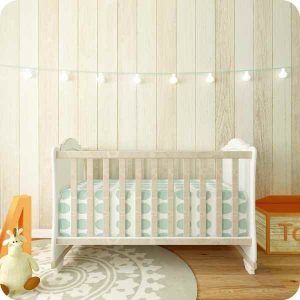 This step is the fun part, as wall décor in a nursery is what ties in the room together. Depending on the colour scheme, the wall décor would need to ideally tie in with the theme of the room. The themes can be nautical theme, animal theme, rainbow theme, etc. A practical example of wall décor would be hanging some art or prints. They are the perfect décor item to fill up an empty wall, and can be easily changed up from a baby's room to a kid's room. You can also add some personalised touches to the walls such as a name sign or your personalised art. Animal head wall décor is also quite on trend for a nursery and kids' room if you want to make a statement. At this stage, you can have fun and play around with different shapes and textures that will ultimately draw the attention to your child to enjoy the space. Such wall décor can be easily changed throughout the years depending on the child's age, therefore you can get away with adding more or less colour depending on your preference.
7. Storage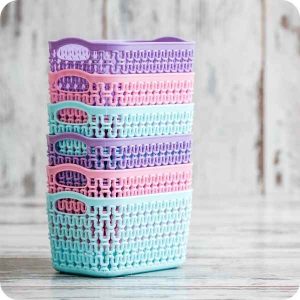 Apart from creating a beautiful place for your child, you must also ensure that the space can also be functional. Storage would have to play an essential part in the child's room. Apart from the standard wardrobe or dressing table, you can add some open shelving for books and feature some toys to tie in with the rest of the décor of the room. Storage units and storage baskets are the best storage solution you can find that are functional and look pleasing to the eye. The storage units also come in handy when doing toy rotation, which is a Montessori approach for the child to have a selected number of toys rotated at a certain timeframe. This will help the child focus on a few toys at once and keep discovering new ones by time. This method not only benefits the child, but also helps the room feeling less chaotic and remain tidy. This might also lead to the child to learn how to tidy up their toys back where they have found them.
There you have it, 7 nursery decor ideas for your child's room. Take your time in the process and make sure to enjoy it. It doesn't have to be ready straight before the baby comes! Making the right decisions at the right time will help you lead to an easier way to decorate your nursery room to easily transition to a room fit for a toddler.

For more interior decor inspo for your home, make sure to check out Katia Camilleri's Instagram @houseteneighteen. You've also got our articles section for newborn tips, tricks and advice. Do you have nursery decor ideas that worked for you? Take a pic and tag us @islandbebemalta.