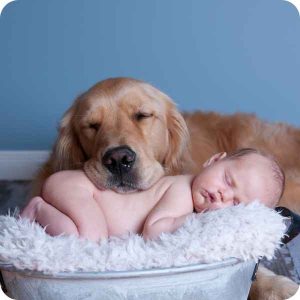 As I sat in my hospital bed and marvelled at the perfect, tiny baby we had created, my husband was on a mission of his own: introducing our furry first born to our son's babygrow and the new smells that would soon take over our home.
Having a newborn and a much-loved dog who was all too accustomed to being the king of the house was a learning curve. Looking back, there are some things we could have prepared for even more in advance, and other elements that took me completely by surprise, specifically pet mum guilt! 
To support you in the transition from pet parents to baby parents, we've asked veterinarian Dr. Deborah Sultana for advice on how to help your dog get used to your baby – even before you bring your baby home.
Start early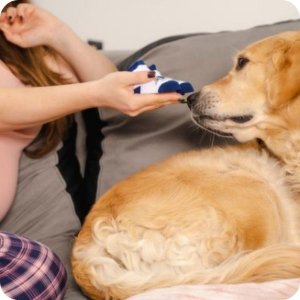 "It's never too early to start preparing", says Dr. Sultana. She recommends washing some of the baby's clothes with baby soap early on in the pregnancy, and letting your dog smell them to get accustomed to the baby's things. The Animal Humane Society also suggests starting early to ensure a smooth transition from pet-centred to baby-centred living. Associating baby smells with high value treats will help your pet form a positive relationship with the baby even before they're born.
Change the environment gradually
Babies need a lot of gear, and the house pretty much transforms itself ahead of a baby's arrival. Introduce new furniture and larger items gradually. Pets rely on consistency, and changes to their environment can cause them stress. 
Introduce baby sounds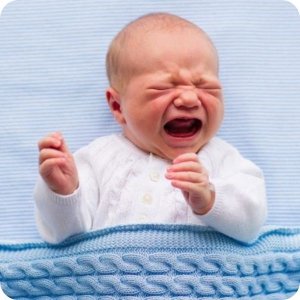 Incessant crying is stressful for adults, let alone pets, especially if they're used to a calm environment. Introduce baby sounds gradually – there are plenty of YouTube videos to help out. Start with a lower volume, increasing it by time and taking note of your dog's reaction. This should help them get more comfortable with baby sounds,. It should also help them be more prepared for the real crying when that arrives.
Set boundaries
Dr. Sultana emphasises the importance of setting boundaries for your dog early on in the pregnancy. It can be tough to supervise pets and a newborn at the same time. So, restricting areas in the house ahead of the baby's birth will help your dog grow used to accessible and inaccessible areas. 
If, as an example, your dog usually sleeps in your bedroom but you prefer if they don't once the baby arrives, make that transition well ahead of time to avoid jealousy.
Stick to routines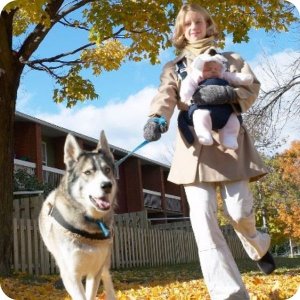 "Changing routines and limiting exercise time can lead to behavioural issues", explains Dr. Sultana. While it's easier said than done with a newborn, sticking to a routine facilitates your dog's transition from queen/king of the house, to furry sibling. Try to keep the same walks and feeding schedule. If you have a high energy dog, do not compromise on its exercise. 
Don't compromise attention
Your return from hospital will be an exciting moment for your dog, especially if they haven't seen you for a couple of days. For dog and baby mum Francesca, this was a very important moment: her husband held the baby, while she greeted her dog as she usually does. Once they had their usual reunion, they introduced the baby to his furry sibling. She notes that approaching this new relationship by remembering how their dog usually reacts to new situations and noises helped with the welcome. Extra treats helped, as well sneaking in a cuddle once the baby was fast asleep.
Supervise at all times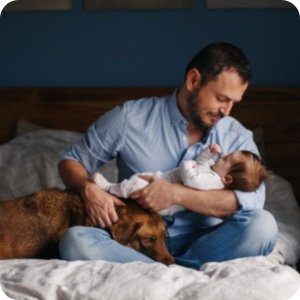 No matter how calm your pet normally is, having a new baby at home is a big change, and this can easily lead to unexpected behaviour. The Animal Humane Society emphasises that babies or small children should never be left unattended around pets. Once your baby starts moving around, this becomes all the more important. Explain to your child that they cannot grab, chase, or pick up the dog. Their food bowl should also be off limits for your little one – pets don't appreciate interruptions while eating.
Pet mum guilt is real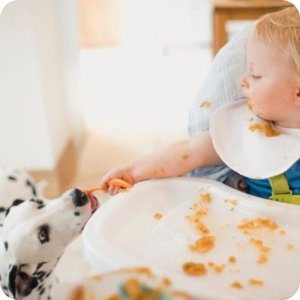 A study presented at the American Sociological Association confirmed what many already knew: pet owners who have children spend less time with their pets. As study author David Blouin, PhD, notes, "Many owners simply have less time and money to spend on their pets, but emotional changes often occur, as well." For many of us, our pets were our first babies. It can be difficult to accept that we now have less time and energy for them, especially while the baby is still young. However, there are little things that you can do to retain your close relationship. These include walks with the dog with the baby in the sling, cuddles while the baby's sleeping, and special treats for your pet to know they still hold a very special place in your heart.
Eventually, the dust settles, and many dogs and babies have a most beautiful bond. And, as your baby starts weaning, that bond gets stronger thanks to the extra treats underneath the highchair!
For more expert help and advice from pregnancy to birth and beyond, visit our Island Experts section.