It's time to focus on Malta's grandparents – the women and men who very often play an integral role in the care of thousands of Maltese children. Their work does not feature anywhere, yet the impact they left on us, and now on our children as grandparents, cannot be measured. 
Local research on grandparents and their contribution to our society is highly lacking – so we've met with Maltese and Gozitan 'nanniet' for an intimate look into their lifestyle and how they spend time with their grandkids. Check out our series to meet these amazing nannas and nannus.
How this Semi-Retired, Pinterest-Loving Nanna Spends her Time with her Grandkids.
Doris Sultana is a fifty-five year old mother of four, and grandma to two, six-year old Katrin and three-year-old Ġorġ. As she shares with us, she's now semi-retired and loves spending quality time with her grandchildren. Check out the interview to learn more about Doris, how she spends her time with the grandkids and why she loves being a grandma.
Can you tell us a little about yourself? Who are you and what was your day like before becoming a grandparent, compared to now?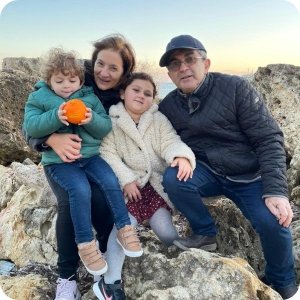 My name is Doris. I'm a mother of four and grandmother to two beautiful children. I'm busy by nature, but I love it and can't stand having nothing to do. My husband and I have our own business, so I had flexible work hours while raising the kids. I can't say it was an easy task raising four kids and managing the family business, but I'm happy to say that we did it. We survived on a lot of work, and little sleep, but plenty of precious moments in between.
When my first granddaughter was born, I was over the moon and so happy to be promoted to grandmother. She has a very special place in my heart. I loved her from the very beginning and try to spend as much time with her as possible. She brought so much joy in our lives. Every little thing she and her brother do reminds me of my own kids when they were little. It's nice to relive that without the stress of doing a million things at once.
In my free time I volunteer with our local scout group as Council Chairperson and as a helper with the Colony (kids aged 5 to 7). I love attending aerobics classes, gardening, hosting and dinners with friends, swimming in summer, and long, adventurous walks in winter. At this stage of our life, my husband and I have also taken to binge watching Netflix and regretting it the next morning. We never had time to watch television when raising our own kids. 
How is caring for a grandchild different from raising your own children?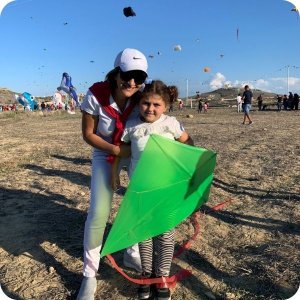 I used to hear other grandparents say, "You'll love your grandchildren more than you love your own kids". I could never understand that – until I experienced it. The love for grandchildren is special.
My youngest son doesn't like it when I say it, though. He was 15 when my first grandchild was born. I love him with every fibre of my being, of course – it's just that your love for grandchildren is different – it's unique. I think I'm also more lenient with them – we're the ones who say "yes" when the parents say "no". We were definitely stricter with our own kids. 
How do you usually spend your time with your grandkids?
I'm semi-retired now, so I have more time on my hands. I try to dedicate as much time as possible to the little ones. We play hide and seek, football and the three-year-olds' favourite, Jenga. We bake cookies and cupcakes, paint, and colour. We all love to swim, too. But, most of all, I love doing crafts – I enjoy it as much as the kids and to see their creativity flow is really everything.
I have plenty of hobbies, but never had enough time for them. With my grandkids I'm now doing what I love most. We share ideas and work on projects together. The 6-year-old loves diamond painting, it's a great activity for rainy days. She also loves to read, and she enjoys it when I listen.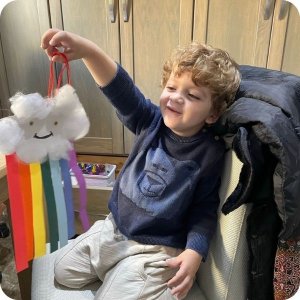 Where do you get inspiration for fun things to do with your grandkids?
When out of ideas, Pinterest is my go to place for inspiration. I use it for everything, from healthy baking, to gorgeous holiday platters, and craft ideas to do with the kids. We adapt projects according to what we have available at home and the kids' skill level. When out shopping I stock up on craft resources, but we also use recycled materials. Their happy and proud faces when we finish a craft are too precious.
Which places do you love visiting with your grandkids?
On sunny days, we spend time in the garden, watering the plants and discovering insects and bugs. We also love to go out for walks, observing and admiring nature.
On being a grandparent, during the pandemic and beyond
Looking back – how did you feel in the first year of the pandemic, when you could only meet your grandkids virtually? 
It was so hard to accept the fact that I will not be able to hold and take care of my grandkids. It was so unfair. I used to call them all the time and read books and tell them stories through zoom. At the time, I was caring for my ailing mother, and the risk was too great. I do hope we will not go through another situation like that in the future. 
Do you think enough is done to appreciate/acknowledge the role of grandparents in Malta? Should there be specific policies or initiatives that address this segment of the population?
I think the role of grandparents isn't discussed enough. Some grandparents care for their grandchildren on a full time basis until they're of school age, and I think that should be recognized. In terms of policies or initiatives, rather than specific to grandparents, I think there should be more focus on family parks with ample space for picnics and open areas where the kids can be kids. Most playing fields are also in dire need of an overhaul, especially in Gozo – some of them are actually unsafe. We're very limited in the places we can visit with the kids. 
Closing Thoughts on 'Grandparenting'
Do you have any tips or advice for other Maltese grandparents? 
Spend as much time as possible with your grandkids. Play with them, they grow up so quickly. The bond that's created when you spend quality time with them is like no other – they open up, share their thoughts and worries and trust you. Most of all, share with them good values, to last them a lifetime. 
What do you love best about being with your grandkids?
Their hugs and smiles melt my heart, sometimes I feel like a kid myself when I'm with them. I love to see them laughing so hard at my jokes and my (sometimes crazy) antics. 
---
Look out for more instalments in our Grandparents Series over the coming weeks in our Island Parents section.
Is there a wonderful nanna or nannu you'd like to nominate for our interview series? Get in touch with us on Facebook or Instagram!