It's time to focus on Malta's grandparents – the women and men who very often play an integral role in the care of thousands of Maltese children. Their work does not feature anywhere, yet the impact they left on us, and now on our children as grandparents, cannot be measured. 
Local research on grandparents and their contribution to our society is highly lacking – so we've met with Maltese and Gozitan 'nanniet' for an intimate look into their lifestyle and how they spend time with their grandkids. Check out our series to meet these amazing nannas and nannus.
The energetic, badminton-loving nanna of six running a business and contributing to her community.
Rose Bartolo's list of achievements is a long one. Together with her husband, she owns a successful catering business. She is a mum of three, former foster carer, and grandma to six: Alison, Andreas, Lucas, Laurann, Isaac and Giulia.
In her free time, she plays badminton, plays the guitar at church, volunteers, and is an active member of the Grandparents Malta Foundation (Nanniet Malta). She shares with us how important her family and staying active is to her. Rose recounts a difficult episode from the pandemic.
She offers some tips and advice for other grandparents caring for little ones. Read on to get to know the incredible Rose!
Can you tell us a little about yourself?
Who are you, and what was your day like before becoming a grandparent, compared to now?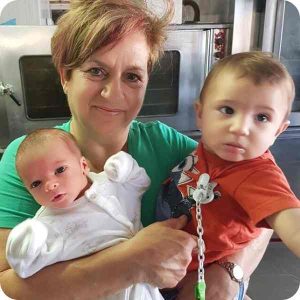 My name is Rose and I'm a mum of three and grandma to three girls and three boys. I'm very active, love working and I am passionate about sports. I used to play squash for many years but had to stop after a skiing accident. From there, I switched to badminton and I love it.
My husband says I return from training as a changed woman. It's the best place to destress, relax and take a break after constantly being around people and clients. I'm also very active within our community, contributing to eucharistic meetings and playing the guitar at mass. I enjoy working on handcrafts, especially bucilla, and also love cooking. 
Life with young kids was very busy. I started working in catering when I was still a teenager. My husband and I started our business before we got married. We built our business and grew our family at the same time. I can't say it was easy, but we managed to always stay positive. We worked as a team, supporting each other at every step.
Working in the catering industry is very intensive and there are also long hours involved. Working until 3am and returning back to our venue early in the morning for another event was normal. My husband used to prepare food, bathe and do all the kids' pick ups and drop offs. It was a lot of work, but all worth it.  
Onto fostering children
Once the kids were older, I fostered four children along the years: a 5-week-old girl for seven and a half years, her 15-year-old sister for three and a half years, and another of their sisters for 11 months. Our family is still in touch with these girls and they join us for Sunday lunch sometimes.
I also fostered a one year old for five weeks around Christmas, and that was the most difficult of all as it coincided with a very busy work period. However, the connection we had was very precious and I was sad to see him go. I always wanted to foster children, it was actually a dream of mine.
As a grandma, I'm still as active, and I love it. I prepare lunch for the entire family every Sunday and there's nothing better than having all the kids, their partners and all grandchildren gathered together around one table. The kids are very close, all with their own opinions of course so there are many interesting discussions at the table.
I babysit the grandchildren when their parents need to go somewhere, sometimes all six of them at once. Their parents often work in our catering business and the grandchildren join them there, too. Once it gets busier I take them all home with me. 
How is caring for a grandchild different from raising your own children?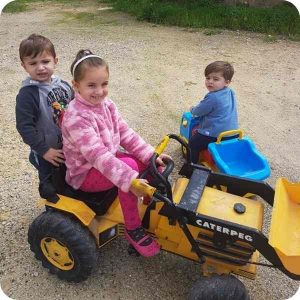 I don't see a difference, to be honest. My grandchildren are a part of me just as my kids are. I love both equally. Sometimes, I hear other grandparents say that they love their grandkids even more than their kids, but it's not like that for me.
I consider my grandchildren a gift from my kids, I love them immensely and every time one of my kids tells me they're pregnant, the joy is indescribable. I'm very grateful that we're all so close and I get to spend so much time with them.
They also remind me of when my own kids were younger as you tend to forget so many memories as time goes by. It pains me so much when one of them is unwell or hurts themselves. That said, I'm not any more lenient with them than I was with my own kids – I'm actually as strict and the same values I lived by when raising my own kids still apply.
How do you usually spend your time with your grandchildren? 
So every Christmas, I buy one gift that all of them can enjoy together. Two Christmasses ago it was a gigantic trampoline, last year swings, slides and a basketball set. I already know what I'm getting them this year, but it's a surprise. I love watching them play together and my kids also join in during the weekend.
We also love watching movies together, especially when I'm babysitting all six. We prepare some popcorn and crisps and enjoy our time together that way. My kids always say I won't manage with all of them, but somehow I do. I really believe in talking to the little ones just like you'd talk to other people – I move down to their level and discuss what's bothering them.
We also love to draw together, they have a blackboard that they all enjoy. I praise and encourage them throughout, I think giving them that attention is important.
Where do you get inspiration for fun things to do with your grandchildren?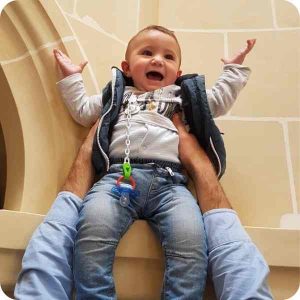 Usually these ideas come along as I'm cooking or cleaning. I think of something fun to do and we do it the next time they're with me. I come up with activities where all grandkids can be together at the same time as it's very important to me that they grow together. 
If I were to say what inspires me the most though, it would be something we experienced during a mission trip to Guatemala. There was one woman whose kids were all grown but who still had one room in her house for each of them. Whenever they visited, they and their family could stay comfortably in their own room. I thought this was something I could do, too – our own little community at home, all the family together. So all of my children still have their own room in our house, and their kids have a sort of home away from home whenever they're with me. 
On being a Maltese grandparent… during a pandemic and beyond.
Looking back – how did you feel during the pandemic?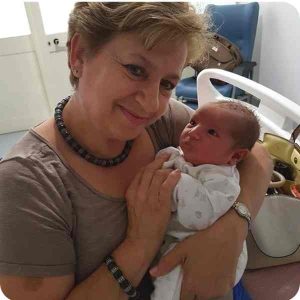 Since we all work together, we were all in the same bubble. We actually grew closer in the first eighteen months of the pandemic as we spent all our time together, including my elderly mum.
Although we were still worried, we took all safety precautions and made the best out of a difficult time. We played countless board games and had many lively bingo sessions.
Two of my grandchildren were born during the pandemic – one of which was a very difficult experience for the entire family. My daughter in law tested positive just before her scheduled c-section. Hospital staff took the baby away the second she was born and her parents could only see her via video calls. It was a painful time for all.
Once it was time for the baby to be discharged, due to quarantine rules, her parents weren't allowed to go get her themselves, even if they had tested negative twice. So I had to collect my newborn granddaughter from the maternity ward. It was a terrible time, but I'm grateful that all is well now.
You're also a member of Nanniet Malta. Can you tell us a little about your work there and do you think enough is done to acknowledge the role of grandparents in Malta?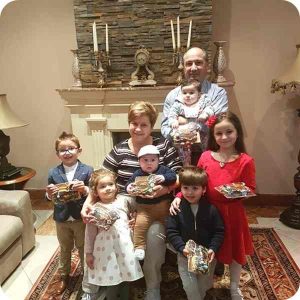 The organisation's main work revolves around those grandparents who would love to be in their grandchildren's lives but who are kept away from them, for various reasons.
It also offers a space where grandparents can get together – we've had many events like these in the past and were even invited to the President's Palace. We held an exhibition recently where members could showcase crafts they worked on.
The association provides lovely opportunities for grandparents to meet up, discuss common interests, and spend some quality time together.
I believe those grandparents that are actively involved in their grandchildren's lives are doing a stellar job. They should be appreciated by society as their support is of great help to the parents and leaves a positive impact on kids.
At the same time, grandparents should respect their children's decisions – you can offer your opinion and suggestions, but at the end of the day it's their life and you have to give them their space.
Closing thoughts on 'grandparenting'
Do you have any tips or advice for other Maltese grandparents? 
Help out whenever you can, support is wonderful when given from the heart. Also – time management – you can do wonders with some smart time management. 
What do you love best about being with your grandchildren?
I love it when we play together. Seeing them jumping around, happy, and fighting to be closest to nanna is too precious. 
Look out for more instalments in our Grandparents Series over the coming weeks in our Island Parents section, and check out our free (super cute) printable to get to know Nannu and Nannu!
Is there a wonderful nanna or nannu you'd like to nominate for our interview series? Get in touch with us on Facebook or Instagram!