It's time to focus on Malta's grandparents – the women and men who very often play an integral role in the care of thousands of Maltese children. Their work does not feature anywhere, yet the impact they left on us, and now on our children as grandparents, cannot be measured. 
Local research on grandparents and their contribution to our society is highly lacking – so we've met with Maltese and Gozitan 'nanniet' for an intimate look into their lifestyle and how they spend time with their grandkids. Check out our series to meet these amazing nannas and nannus.
Joe shares with us little snippets from daily life as a 'nannu'
Joe Bajada is a retired teacher, dedicated to voluntary work and his three adorable grandchildren: five-year-old Luke, one-year-old Thomas, and ten-month-old Emilia Reese. He and his wife split their time between their home in Gozo and their kids' homes in Malta, helping them with childcare and anything else their families may need. Joe shares with us little snippets from daily life as a 'nannu', how caring for a grandchild is different from raising your own kids, and what he loves best about this stage of life.
Can you tell us a little about yourself? Who are you and what was your day like before becoming a grandparent, compared to now?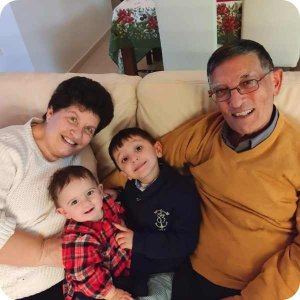 I am a retired teacher. At the age of 61, I found myself in a new routine, much relaxed. At last I could find more time for myself. My day remained busy, but in a different way. I could afford to spend time doing voluntary work, something that I really enjoy doing.
When I became a grandparent and offered to do babysitting (accompanied by my wife) things had to change again, because this new "job" took over my priorities. Our life changed more due to the fact that our two children settled in Malta when they married. For this reason, my wife and I travel to Malta to our children's homes to help babysit.  
How is caring for a grandchild different from raising your own children?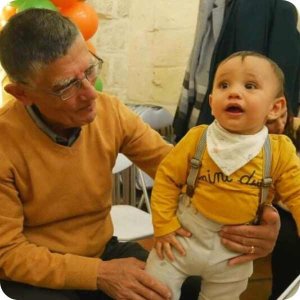 When you are raising your own children, you are quite young, so the job of child raising would seem easier. However, since both parents are usually working, raising the child may become a stressful job because the parents have to go to their place of work on time. They do not have that much time to spend with their children. 
On the other hand, the grandparents have much more time on their hands, so they are free of stress, timewise. They may be more patient if the baby takes half an hour to eat the food, while the parents may not be able to afford to spend that amount of time before going to work.
However, the grandparents may find themselves at a disadvantage in the "modern" way of raising their grandchildren, because what was good 30 years ago may not be good today.
How do you usually spend your time with your grandkids?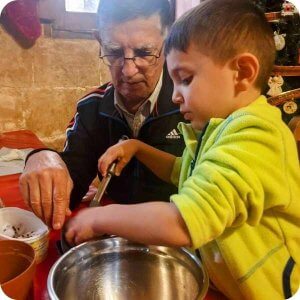 We usually follow the timetable the parents prepare. There will be time for feeding, time for taking a nap, time for playing, time for going out. All this depends on the age of the grandchild being cared for.
Where do you get inspiration for fun things to do with your grandkids?
You get inspiration from the toys and gadgets available. But it also comes from your own imagination. Sometimes a simple cardboard box provides more entertainment for the young child, than the most expensive toy. Even a simple walk in the countryside can provide the most entertaining and relaxing time for an infant.
Which places do you love visiting with your grandkids?
The Chinese garden in Santa Lucija and Valletta used to be our favourite place for our 2-3 year old grandson. He would never get enough of these places.
On being a grandparent in Malta… during a pandemic and beyond
Looking back – how did you feel in the first year of the pandemic, when meeting grandkids only happened virtually?
It was really heart-breaking at times. We missed their hugs and kisses. However technology was really a God send, because we could at least see and talk to our dear little ones. 
Do you think enough is done to appreciate/acknowledge the role of grandparents in Malta? Should there be specific policies or initiatives that address this segment of the population?
No, their work is not acknowledged at all. The government has never taken any initiative to encourage grandparents in the sterling work they are doing. A token bonus would be a small but initial gesture of gratitude on behalf of the government, but this has never happened.
Closing thoughts on 'grandparenting'
Do you have any tips or advice for other Maltese grandparents?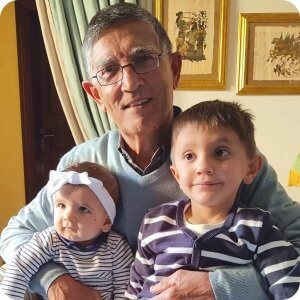 I would surely encourage other grandparents to take on this service of childminding for their grandchildren. Despite the age-gap, it is so beneficial to the grandparents. It makes you feel younger and useful.
Spending your time with grandchildren is so heart-warming. Watching them grow and developing their faculties gives so much meaning to your life. You realise that you did not have the time to get the same experience with your own children. So surely, go for it, because it is a really exciting and rewarding experience.
What do you love best about being with your grandkids?
Watching them develop and learning new skills. You can see the difference from one week to another. Sometimes the way they express themselves surprises you. Lastly, their way of showing their affection and love is something no words can express.
---
Look out for more instalments in our Grandparents Series over the coming weeks in our Island Parents section, and check out our free (super cute) printable to get to know Nannu and Nannu!
Is there a wonderful nanna or nannu you'd like to nominate for our interview series? Get in touch with us on Facebook or Instagram!