The Maltese education system can be a bit of a minefield for parents, so we've put together a helpful guide, starting with registering for kindergarten.
"Children are like tiny flowers; they are varied and need care, but each is beautiful alone and glorious when seen in the community of peers."  
Kindergarten in Malta
Getting our children prepared for kindergarten can be an emotional journey, even for the parents! The timing of getting a toddler independently potty trained and mentally prepared for school can be tricky. As a fellow mum, I have faith in you! 
Friedrich Froebel, who coined the term 'Kindergarten', described his vision of the early years' setting as the environment which will provide the opportunities for children to flourish. As a parent, this gives me great comfort and eases the inevitable concern of not knowing how soon my child will adapt to the change. One way or another, all children eventually settle in. With Kindergarten, it is time for the little ones to really discover themselves and the world around them. 
Before anything else though, we need to break down the Kindergarten application process in Malta. 
First of all, kindergarten is not mandatory in Malta but parents may enrol their children to attend as soon as they are 2 years and 9 months old. 
But how do you go about applying for Kindergarten for your kids? 
Unfortunately no one will tell you it is time to apply or where to start. I've heard that the parish priest will announce at some point during mass, but what happens if you do not have a devoted aunty who wouldn't miss mass and therefore this announcement? 
How do I apply for government schools?
Since I'll be sending my little one to a government school, this is the part I know most about as I've been through the whole process myself recently. 
The system in Malta is that schools are grouped in 10 colleges by locality. By default, your kid will go to a school in the same locality as the address on your ID card. The child will then remain in the same college throughout the full compulsory educational journey. 
The application form may be filled online here or in person at the school.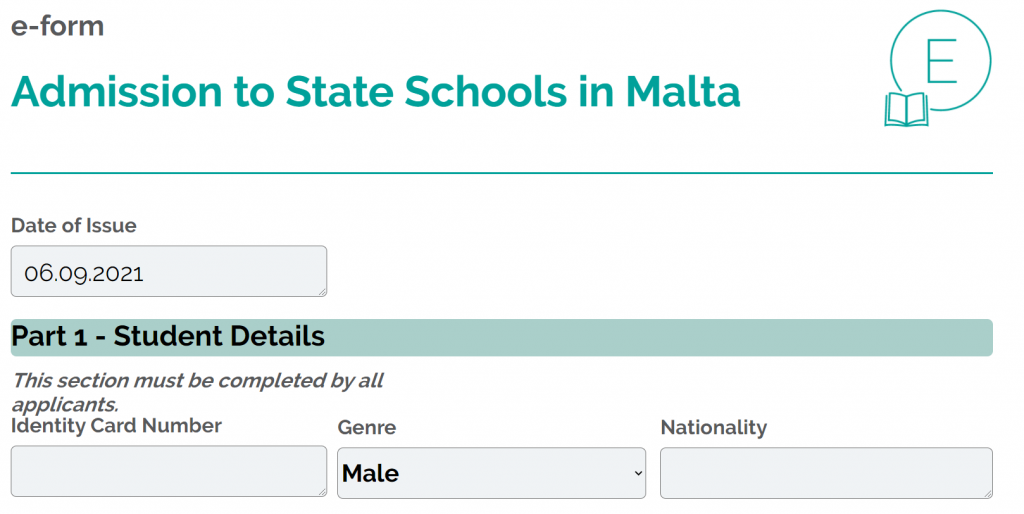 More details regarding the application process may be accessed through this link.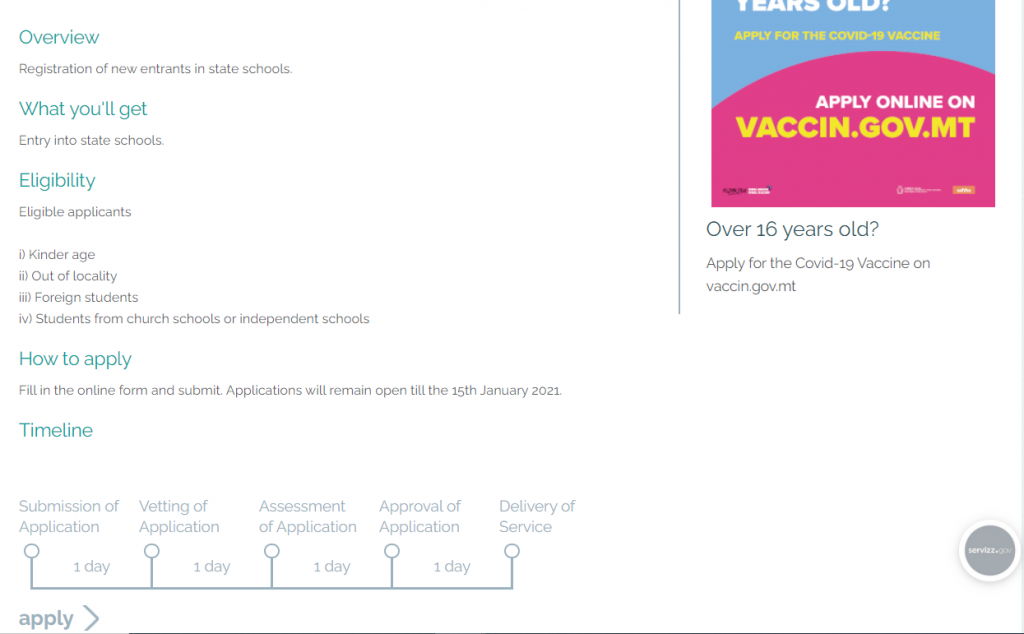 What documents do I need to apply for government school?
In both cases you'll need to have the IDs of both parents handy. If anyone else will be picking your child up from school, you'll also need their IDs along with a signed letter confirming that they accept to pick up the child on your behalf. 
If you chose to apply online, just fill in the details, upload the documents and voilà! You will receive an automated email shortly after. 
The process is quite straightforward, however this is where I would then suggest you pick up the phone. Call up the school to make sure they received your application and that a human is actually on it. Following a successful application, you should also expect to receive an appointment from the school nurse.
What do I need to do to apply for a government school in a different location?
Even though this is the first time you're applying for kindergarten, if you need to send your child to a different locality than that noted in your ID card, you'll need to get in touch with the college principal and ask for a transfer. 
Bear in mind that transfers are not guaranteed, as preference is always given to children from the locality. This also means that if you transfer your child to another location, you will not benefit from free transport. In my case, the transfer was accepted after about 1 and half months, and I was informed of this through an email by the office of the college principal. 
Kindergarten in Church schools in Malta
I also tried my luck with church schools back in February. There are a number of factors which determine what child would take priority over the general applications, like for example; if an older sibling already attends the school, if a parent works at the school, children from Church Homes or children already attending another church school. 
Therefore if you do not fall under any of these categories, the chances are a bit slim since there will be very limited available spots left. There were only 17 spots for boys in kindergarten when I applied but this will vary every year.
The number of available spots and all the necessary details are published on the Archdiocese of Malta website and on their social media pages. 
The church school application may be done online by following the instructions on this link.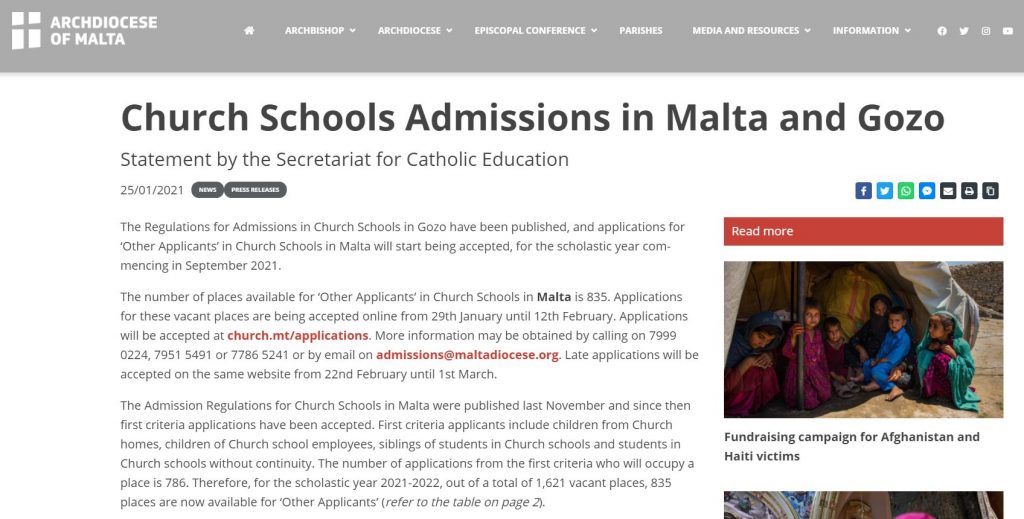 You will need to fill in yours, and the child's details and upload a passport photo, the birth certificate and if Catholic or Christian, the child's Baptism certificate. Parents who are separated will also need to show documentation in relation to custody of the child and which parent is responsible for educational decisions. 
The application is against payment of 20 EUR which is processed in a few seconds online. 
Upon submission of the form, an automated confirmation will follow. In about two weeks you should expect a manual confirmation from the admissions assistant. The applicants are then chosen through a ballot system and the ranking is announced.
Private Kindergarten schools in Malta
If your children already attend a private nursery, you might wish to ask if they also have a kindergarten setting. The number of private kindergarten settings in Malta is growing steadily. Naturally, these schools would charge a fee. 
There is a tendency for these schools to prefer the use of English over Maltese, however it would be best to discuss school policies with the head of the school you are interested in. 
Private Schools in Malta
There are a number of independent 'private' schools in Malta, and if one of them is your target, you will need to start thinking about enrolling your children shortly after they are born to ensure that a spot will be available for them when the time comes. 
A list of independent schools may be accessed here.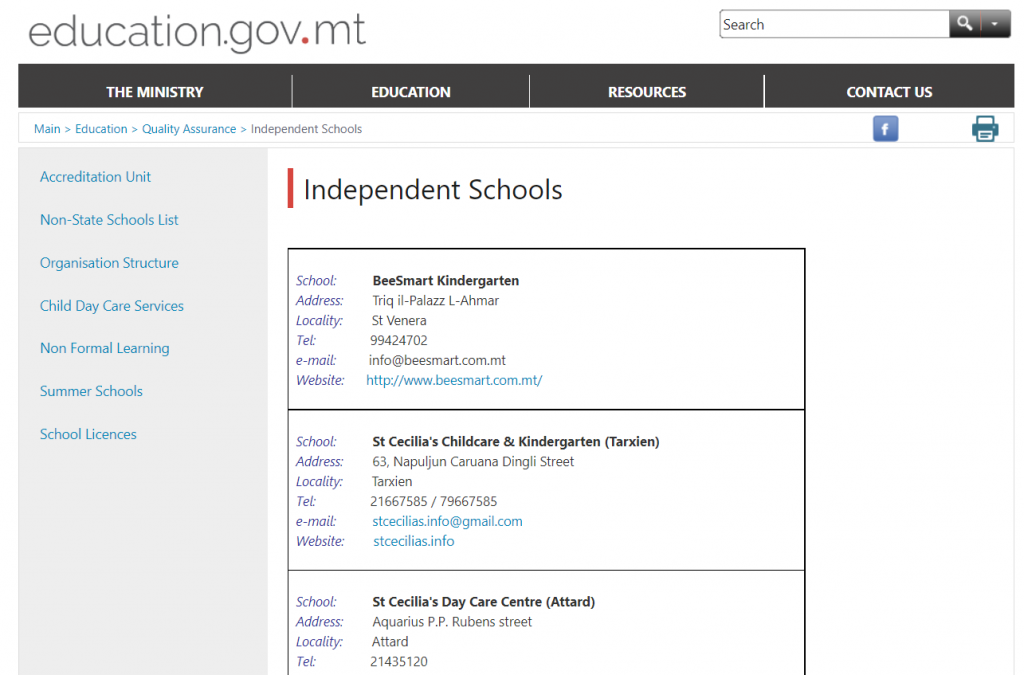 General Tips about enrolling your child in Kindergarten in Malta
Do not leave things till the very last minute. I would start thinking round about the time the toddler turns 2 and start checking the relevant websites for latest notices regarding applications. 
Keep scans of important documents such as IDs and the birth certificates handy. Trust me, if it's 11.30pm and the kids are finally asleep, the last thing you'll be up to after filling in the application is to look for the paperwork. 
Finally, do not sleep on any application which you submit be it online or by hand. Do not assume that no news is good news. Just pick up the phone and connect to someone helpful. Rest assured, you will not be the first parent calling for a follow up.
What to do if you work long hours and kids are in school?
School usually starts at 8.30am and finishes at 2.30pm. But what if you work full time? Even if you don't, it is challenging to drop off a toddler, work, commute in peak traffic and be back on time for pick up. 
Luckily there are two solutions, for both mornings and afternoons. One can apply for the Breakfast Club here. It is a free service and will at least grant you hassle free travelling time.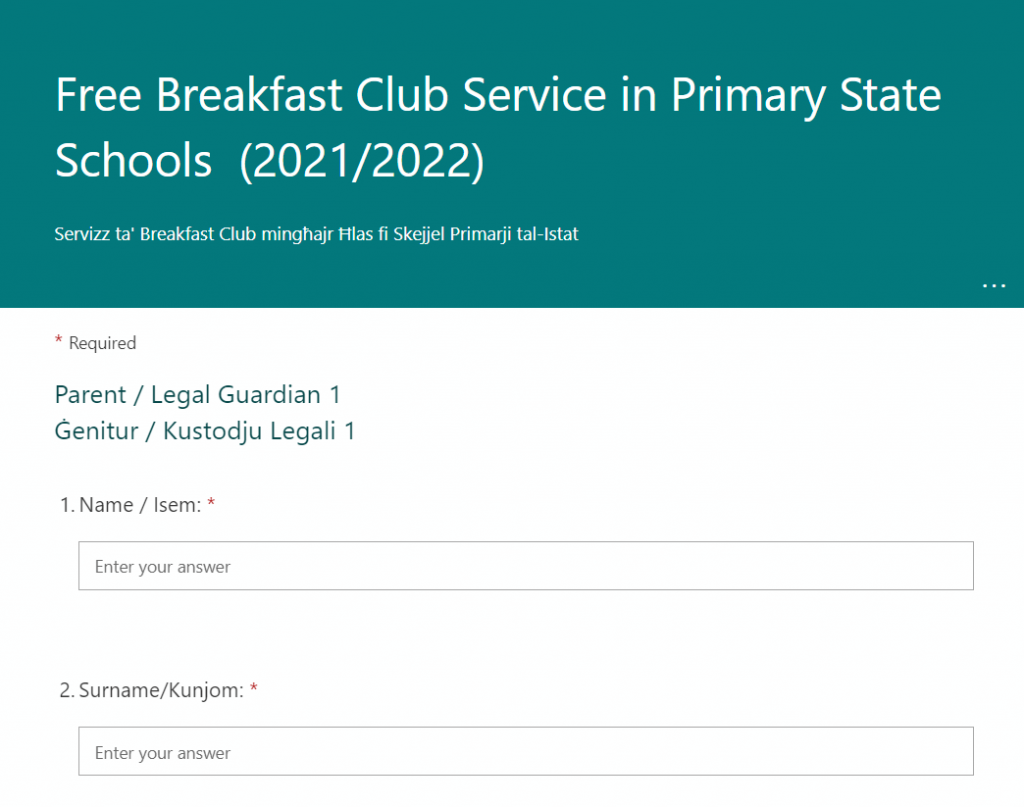 For more details about the service, visit the servizz.gov page.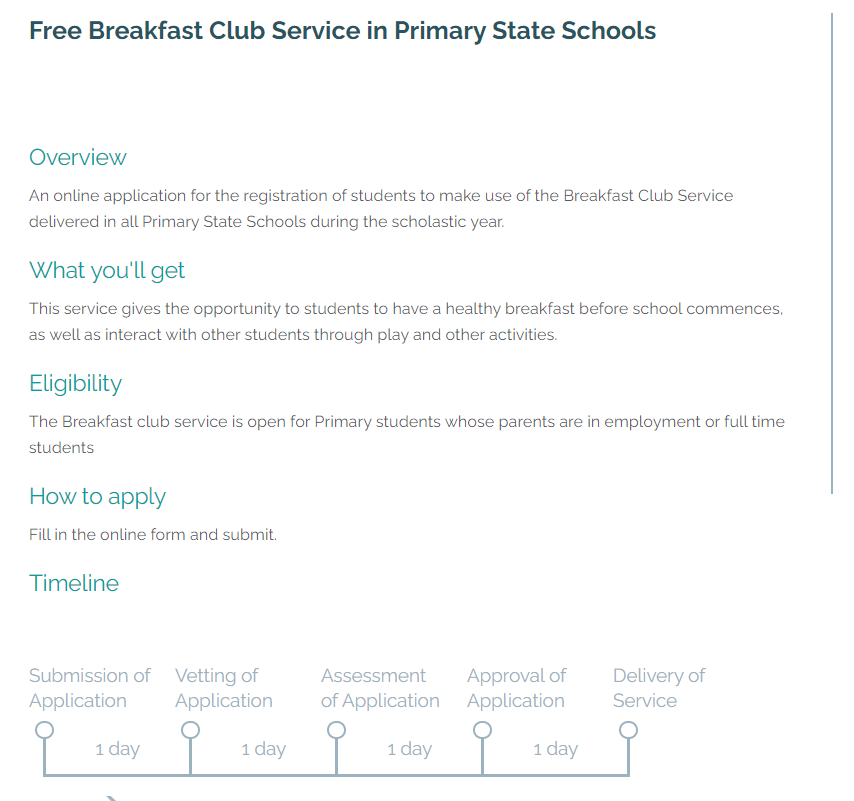 Klabb 3-16 is an afterschool service being offered at a low price in about 30 localities. The service is also open to children from Independent schools and Church schools, given that the parents provide proof of employment or are in a registered course. It is available till 6pm including school holidays, according to demand.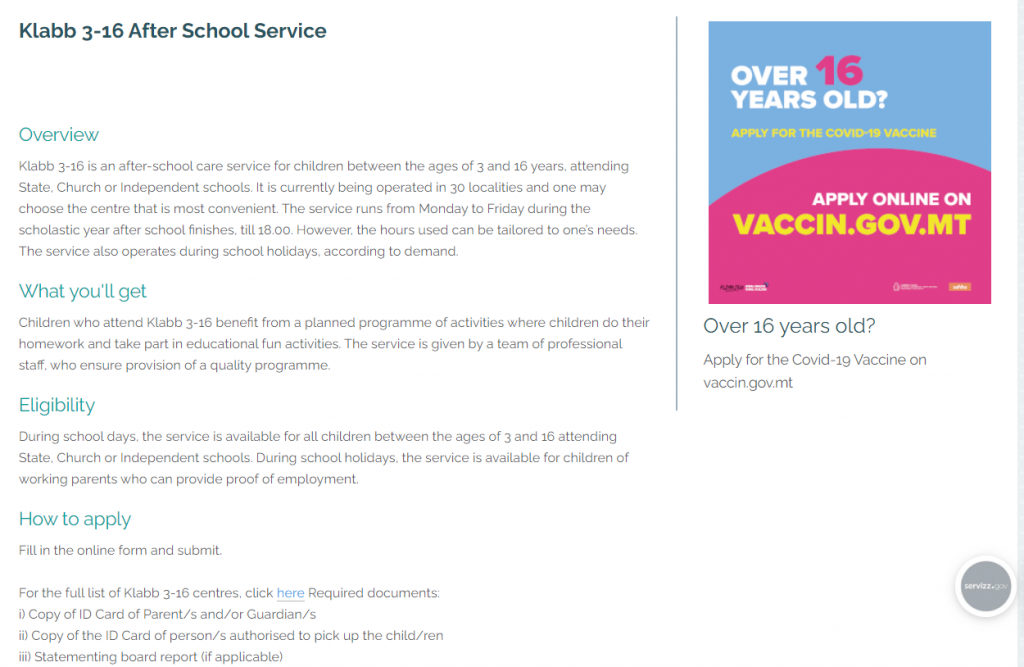 One would need to first create a profile on the FES website, and then proceed with the application.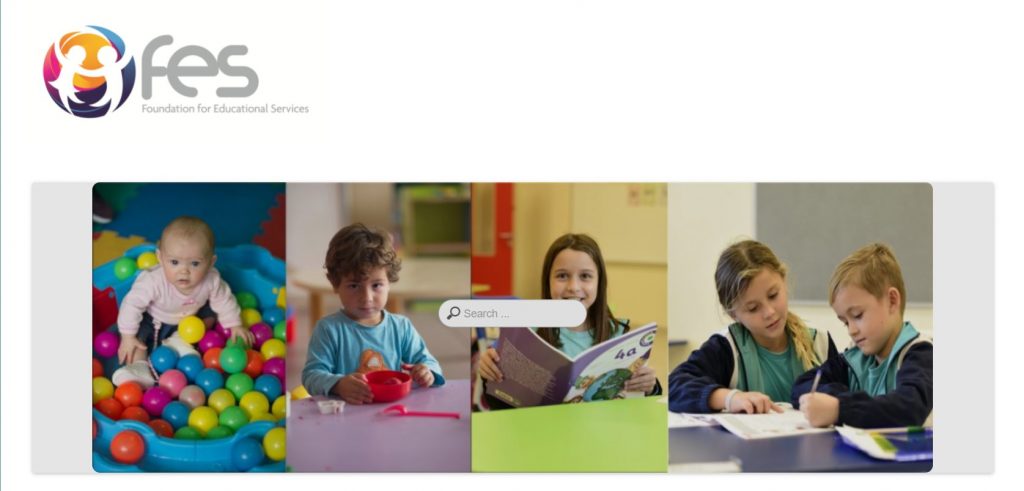 Next steps
Now that your kiddo has been accepted, it's time to start thinking about uniforms and the list of things to buy! Here's where the many Facebook mum groups you follow become super useful. Mums are always ready to help one another; be it about the size of the school bag, the colour of the running shoes or lunch box filler ideas.
Now, all that's left to do is sit back (yeah, right) and let your little one blossom. Good luck!

For more tips, tricks and resources from local parents, don't forget to visit our Island Parents section!