This recipe has been brought to you in collaboration with Sarah Bajada. Sarah Bajada, mum of 2 year old Sam, fitness enthusiast, PT & founder of Sky Spirit fitness lounge, and now the host of the voice kids.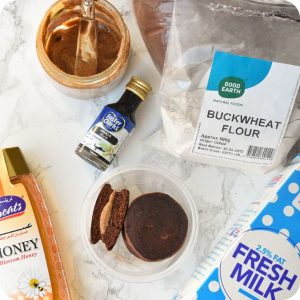 A sweet snack is always a great addition to a lunch box or as a breakfast serving. Kids simply love it! Light and fluffy. They're just amazing! Making a batch of buckwheat, cocoa mini pancakes is as simple as can be. Read on to find how to make these delish, quick and simple buckwheat, cocoa mini pancakes.
Ingredients:
1 cup buckwheat flour
1/3 cup raw cocoa powder
1 tsp baking powder
1/4 tsp salt
1 cup  milk
1 large egg
1/4 cup honey
1 tsp vanilla extract
1 large ripe banana (optional)
Method:
Whisk all the ingredients together until smooth.
Heat a pan with some oil over medium heat.
Use a mini ice-cream scoop (or calculate around this size) of batter and pour it in the pan.
Use a mini ice cream scoop to scoop about 1 oz. of batter onto the hot griddle. Cook until many bubbles rise to the top and the edges of the mini pancake begin to firm up – approximately 1-2minutes. Flip and cook for another minute or until the pancake is cooked through.
Repeat for the remaining better.
Sandwich 2 mini pancakes with some peanut butter in the middle or a filling of your choice.
Ingredient Substitutes:
Peanut butter substitute: Hazelnut butter, walnut butter, almond butter, jam or fruit compote.
Buckwheat flour substitute: You can use any other flour of your choice.
Banana substitute: 1/4 cup of apple sauce
You can also make these pancakes dairy free by using a plant based milk alternative.
Did you know?
These mini pancakes are gluten free and high in fibre.
Batch baking 
Batch prepare the pancakes and freeze them for those busy days. Take them out in the morning or the evening before, so that they can defrost and prepare the filling there and then.
Check out our island foodie section for more recipe ideas for kids.