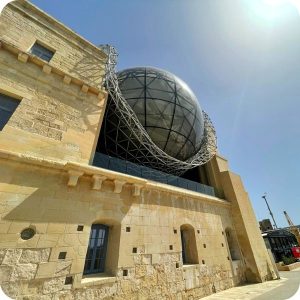 When I think Planetarium I think of Friends, Ross and Rachel. Any Friends fans around?
Upon visiting the EsploraPlanetarium I wondered if it would look anything like that?  We're here to tell you it's even better than that.
The EsploraPlanetarium is a great experience for both your children and yourself. The Planetarium Experience is ideal for kids aged 4+. Children of this age or older may be more tolerable to the immersive experience.
Kids can discover more about the universe by watching a movie in the Planetarium Dome. Different films are available for different age groups (4+, 7+ and 12+ years).
Check the weekly screening schedule here before heading down to Esplora. It's good to note that the Planetarium is equipped with a hearing loop system. This helps to facilitate those who make use of hearing aids.
After watching the film, kids can move on to the Universe Exhibition as they get ready for a space mission! Kids will definitely love the EsploraPlanetarium, as they discover life on the International Space Station, and become astronauts for a day. You heard that right! Kids can transform themselves into astronauts as they get a picture of themselves wearing a space suit. This is a very cool scenario for the children. There are also lots of other space interactive exhibits that kids can enjoy as they learn more about life in space.
Whilst visiting Esplora, be sure to enjoy some of the harbour stunning views that this place holds. And, if your kids get hungry, you can stop by the EsploraCafé for a snack.
Video
Watch this short video to get a visual experience of the EsploraPlanetarium.
We've been there and had lots of fun too! 
Head to the do list for more fun activities to do with the little ones.