Helen Borg is a senior midwife and infant feeding specialist who heads up the drop-in breastfeeding clinic at Mater Dei hospital. As mentioned in the series intro, Helen will cover common issues that can arise when feeding your newborn, giving professional advice and reassurance to help make your journey run smooth.


Q. How soon after birth should my baby first feed, and what does that mean for babies who need special care and therefore can't access the breast immediately?
A. Babies use up a lot of energy being born, so that first feed is vital. When everything is plain sailing, then a skin-to-skin, early feed is the ideal scenario. In addition, the mother's hormones are very plentiful immediately after birth, so it helps the baby get a good feed with little effort, which is why the first one to two hours is a good time to feed.
If you do have a baby in special care, the whole start-up process is different. If you don't get the chance to breastfeed, then ideally you'd begin expressing as soon as possible so your baby can still get your milk through a bottle. The baby benefits a lot more from having your milk because of the anti-bodies it contains – and the fact that it's easily digested will help the baby on their journey to recovery. If you start expressing early enough, you will have a good enough milk supply for this, but if you leave it for 3 or 4 days after the birth, then your milk supply could be a bit compromised and it will be tougher to get back on track.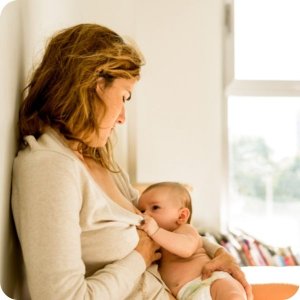 In terms of breastfeeding special care babies when they're ready, it can be hit or miss. Some babies in special care will never take to the breast, having only experienced bottles at first, but there are quite a number who, once on the breast, are not so keen on going back to a bottle.
It's obviously a much more challenging experience for these parents, and one of the things that makes it so tough is that mummy is stressed because she's been through a scare. This anxiety means that everything then becomes much more regimented, whereas breastfeeding is anything but regimented! But, in these situations, ultimately it's important that the baby's feeding is medically managed in a way that works best for them.


When it comes to spare equipment for new mums, the breastfeeding clinic relies on donations, so if you have any of the following that you no longer need, you can drop them off at the clinic where they will be gratefully received!
-Breast pumps
-Small nipple shields
-Milk storage bags or containers
-Breast pads
If you find yourself struggling or looking for additional advice, don't hesitate to contact the breastfeeding clinic at Mater Dei hospital.