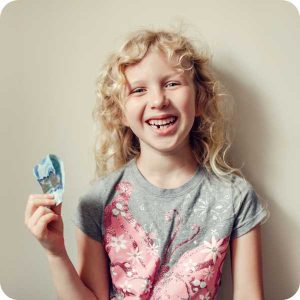 The first wobbly tooth is a big milestone for your little one. Chances are, it's an even bigger milestone for you, with a lovely cocktail of emotions to go with it. I know it was for me! Late by classmate-standards, my daughter was stoked when she finally had a wobbly tooth, but it all turned to horror when she realised we may need to intervene after days of eating weird and not talking properly. Let's just say tooth fairy expectations were high… She had a big job coming up after that first ordeal. In this article we list some tooth fairy gift ideas we came across and loved, others we've tried and others that are waiting in line to mark the next lost tooth.
Sometimes, even the tooth fairy needs some creative help, so here you go!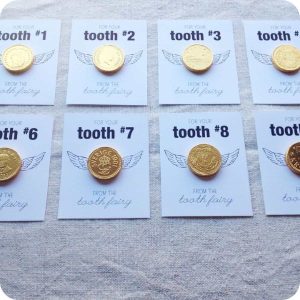 Bling Up A Coin
There's no official going rate for a lost first tooth – and the others that come after it. But even a few coins can get the greatest reaction from your little one; after all, it's the tooth fairy magic that counts. These cards are a great idea to make the monetary gift even more special. You can also add to the experience by taking your little one shopping for a little gift using their tooth fairy money. And if you're not too fond of the money idea, you can swap the real coins with chocolate ones – although we're not sure how ethical it is to gift chocolate in tooth fairy land… 
Tooth Fairy Pillow
A tooth fairy pillow includes a small pouch where your child can store their lost tooth. It's a great addition to the lost tooth routine and a lovely keepsake. If you're crafty, you can make your own.
If not, there are plenty of adorable options on Etsy, such as this cute rainbow one:

And these gorgeous personalised tooth fairy pillows: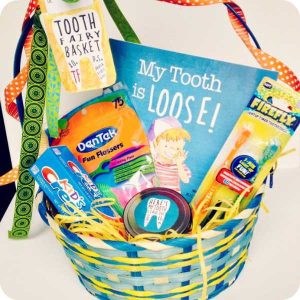 Tooth Fairy Basket
This is great to make the loss of a first tooth extra special. Fill it up with teeth-related things, such as toothpaste, a new toothbrush, and a book about visiting a dentist or losing a first tooth.
Tooth Fairy Receipt
This tooth fairy receipt is genius, especially the quality rating. What better way to get them excited about brushing their teeth if not with a review from the queen of teeth herself? Keep the magic alive and try to use a different handwriting – if your kids are anything like mine, they smell a trick from miles away. Get your Island Bebe Tooth Fairy Receipt. 

Fairy footprints
Need some proof of the tooth fairy's visit? Dip a doll's shoe or foot into some colourful glitter and create a trail of footprints leading to your child's bed. Yes, you will probably find glitter on the floor for the next eighteen years, but we promise your little one's reaction will make it all worthwhile!
Books about the Tooth Fairy
A book is always a great idea. There are plenty of lovely stories out there about the magic surrounding the tooth fairy, as well as the experience of losing baby teeth. These are some of our favourite picks: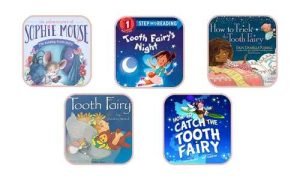 There are many ways you can make the tooth fairy's visit lovingly magical, even with just a bit of effort. We hope these ideas inspire you and, remember, each visit is great for adding to the teeth brushing conversation with your little one!  
(With that sorted, we can now go back to scrolling newborn photos and cry over how much our baby's grown 😅 – you're not the only one, mama!)
Keep up to date with our latest articles on Island Bebe.