We've been literally stuck on the same island for far too long now. As Malta moves towards a semblance of normality, we're excited for some island-hopping! Who knew the sight of the Gozo Channel fleet (including the Greek ferry) would get us as thrilled as a Boeing headed to another continent? 
As you plan your family getaway, we thought we'd help you out with a handy itinerary for a Gozo day trip with the kids.
First Stop (Nature): Sanap Cliffs, Sannat
There were some amazing whale sightings recently at Sanap. Pack some toy binoculars (and real ones) and get the kids excited about spotting one. While we didn't manage to see any whales, the kids loved making up stories about all kinds of fish and mermaids living in the caves. The views along the path are breath-taking, and the area is also great for cycling or a leisurely walk.
€ Free
Second Stop (History): Citadella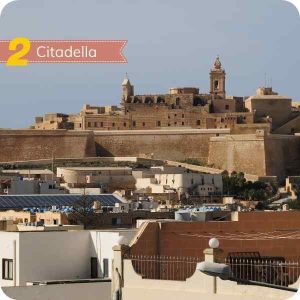 Citadella is easy to spot – and beautiful to explore. You can start your visit at the interactive Citadella Visitor's Centre or head immediately to the Cathedral and start exploring the little alleys from there. The ditch has recently been refurbished and there's plenty of space where the kids can run and explore.
Details: The Visitor's Center is open daily between 9.00am and 5.00pm except on 24, 25 and 31 December, 1 January and Good Friday.
€ Free*
*If you only visit the Citadel or if your kids have a Heritage Malta card. Otherwise, a €5 ticket (kids under the age of 6 enter for free) grants you access to the Citadella Visitors' Centre, the Gozo Archaeology Museum, the Nature Museum, the Old Prisons and the Gran Castello Historic House.
Third Stop (Lunch): Marsalforn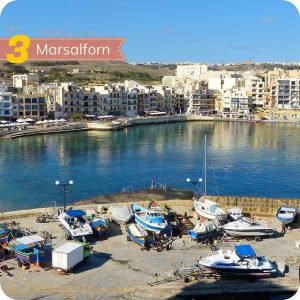 The recently regenerated promenade is good for a stroll and ideal for a quick lunch or a more relaxed one. There are plenty of restaurants to choose from, most of which are kid-friendly and have specific kids' menus available.
If you're dying for a Gozitan ftira from Maxokk or Mekren bakeries, then you can order in advance, pick up in time for lunch, and enjoy a picnic at one of the many wonderful bays.
€ There are plenty of restaurants to choose from which cater to any budget.
Fourth stop (Animals): Dreams of Horses Farm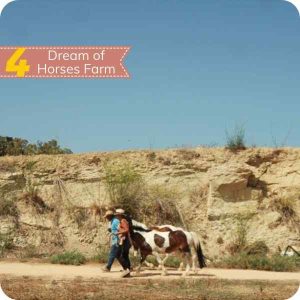 Dreams of Horses Farm is a multi-purpose equestrian therapy centre in Ramla Valley, on the outskirts of Xaghra. The farm provides horse-assisted activities to those with physical, social and emotional difficulties, but the afternoons are reserved for guided, interactive tours around the farm. There's plenty of horses to admire, each with its own unique story that the founder, Victor, will gladly recount. His passion for the animals is infectious. The kids will love his story-telling and fun facts, as well as feeding the ducks and geese and watching him milk the goats. 
Details: You can follow the signs to Xaghra. Instead of going uphill to Xaghra Square, take the road to Nazzarenu on the right. From there you'll be able to spot signs to the farm. The farm is open for guided visits from Wednesday to Sunday between 3.00pm and 6.00pm. No booking is needed. 
€ A contribution of €5.00 per person – kids under 3 enter for free.
Fifth Stop (Beach): Ramla Bay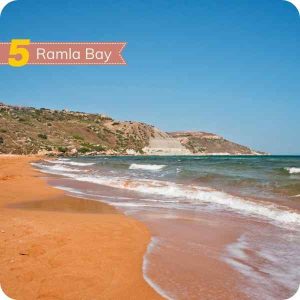 We've explored plenty of Gozo beaches with the kids but Ramla remains a firm favorite. We're not too fond of the sand that sticks to everything and everywhere but the kids always love our time there, regardless of the season. The golden sand is just perfect and if you do swim, the right side of the bay (known as the Nadur side) is very shallow. And, if you'd love an ice cream, the American-inspired ice cream truck parked outside the bay is EVERYTHING.
Details: Pack an extra change of clothes, even if you don't plan to swim. Don't forget to pack a bucket, a spade and a beach ball. The beach can get very busy in summer so if you're not too fond of crowds, it's better to visit during the shoulder months.
 € Free  (the ice cream is a must though)
At this point, we can much guarantee that the kids (and the adults) will be exhausted – but with great memories to take home. Happy exploring! 
Try out our itinerary for a Gozo day trip with the kids. Don't forget to tag us in your pics! You can find us on Instagram and Facebook. For more fab family activities, check out our Island Activities section.